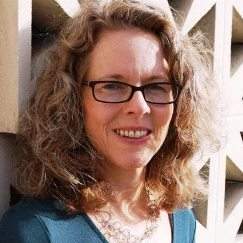 Karen Haluza, the Interim Executive Director of the Planning and Building Agency at City of Santa Ana, is leaving Santa Ana on December 15, for a new job in the City of Fullerton, in their Community Development department.  Haluza lives in Fullerton and she ran unsuccessfully for their City Council in 2008.  While she did not win in that election she did garner over 16,000 votes, according to Smart Voter.
Haluza has done a good job in Santa Ana, where she took over the Planning Department after their longtime director, Jay Trevino, retired at the end of 2013.
City Hall insiders say that Haluza was reportedly pushed out of her current job in Santa Ana by Councilman David Benavides and his Planning Commissioner Phil Bacerra, who were both embroiled in a scandal this year when Bacerra steadfastly refused to fill out and turn in communication disclosure forms that are mandated for our Planning Commissioners.  Bacerra finally buckled after facing removal from the Planning Commisison.
Haluza's exit from Santa Ana is bad news for those who support increased transparency in our local government.  Trevino and Haluza both worked hard to make their agency more transparent – and their detractors want to restore the backroom maneuvers that once were de rigueur in our Planning Agency.
Even worse – the special interests that have supported Benavides's political campaigns over the years include developers of high density apartments – perhaps the last thing our city needs.  There is no surer way to destroy a community than to pile it full of high density apartments – and the traffic, crime and other problems inherent to such developments.
Hopefully the Santa Ana City Council will find a new Planning Director who will support transparency and oppose over-development of our city.  Haluza will leave big shoes to fill!  We thank her for her hard work and contributions to our community.
Haluza has a Masters Degree in Public Administration from California State University Fullerton.  She has " administered multi-million dollar budgets, managed dozens of municipal employees, reviewed and approved hundreds of staff reports, participated in employee bargaining unit negotiations and conducted countless public meetings," according to her bio.
Haluza began her career in local government almost 20 years ago as an intern with the City of La Mirada where she worked on grant funding for the Human Services Department and public relations for the Public Information Office. She next served as an Administrative Aide with the City of La Habra Heights where she did everything from getting the City Manager's car washed to managing contracts for slurry sealing. Working for this small, rural city, with a full-time staff of eight, she learned every aspect of what it takes to run a city.
Her next position was with the City of Brea as an Analyst. She spent the next 13 years of her career in Brea taking progressively more responsible positions that finally resulted in her being appointed to the position of Senior Planner in the Development Services Department. During her tenure with Brea she was part of the dynamic team that implemented that community's vision for its downtown resulting in the award-winning Birch Street Promenade.
In 2004 she began serving as the Planning Manager for the City of Santa Ana where she managed the daily operations of the Planning Division, supervising a staff of over 20 professional planners and serving as the lead staff liaison to the Planning Commission and Historic Resources Commission.