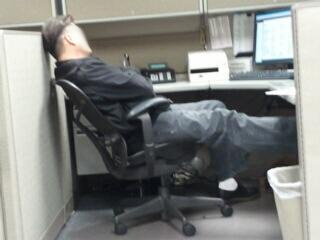 Like boss like employee. This is a snap shot of the Clerk-Recorder Department's crack purchasing agent XXXXXXXXXXX XXXX. There is a saying that a team is as strong as its weakest team member and this appears to be the truth in this case. What kind of a shop is Tom Daly running here? From the looks of things Tom Daly expects his campaign for the 69th Assembly District to be a breeze.
The problem with this photo is that it is a reflection of Tom Daly's inability to make a sound decision. In 2009, the County's Head Purchasing Agent Ron Vienna conducted an audit of the Clerk-Recorder Department's purchasing practices. The audit, which you can read about here, exposed Tom Daly's inability to follow county purchasing policy. On twelve separate incidents, it was found that Tom Daly skirted county policy and showed no regret or concern over it. His department concurred with all the findings and listed several remedial actions the department would take.
There are obvious ways to save taxpayer dollars. But, to the taxpayer's dismay, sleeping beauty here was the purchasing agent during the time of the audit. You would think that Tom Daly would have fired or severely disciplined this individual for his incompetence. However, Tom Daly opted to leave this person in a lesser position to answer the department phones and examine documents.
County records obtained by the Orange County Register show that sleeping beauty here is still costing tax payers $49,571 a year and is still getting paid as a Buyer II, a position he hasn't held for two years. This is a salary way above that salary of the duties he is currently performing and I'm sure it is more than anyone gets paid for to allegedly sleep at work! If Tom Daly doesn't make his employees accountable then who is going to make Tom Daly accountable for his bad decisions if he goes to Sacramento?
Do you want to send this sleeping beauty's boss to Sacramento? Who in the world would tolerate this behavior in the real world? I guess Tom has never had a private sector job so he doesn't know better. At the end of the day, Tom Daly has no regard for how taxpayer's money is spent. Maybe this is a department benefit or Tom's stimulus plan when he gets to Sacramento – cash for naps.  Or maybe this guy has some dirt on Daly, or his assistant Renee Ramirez…