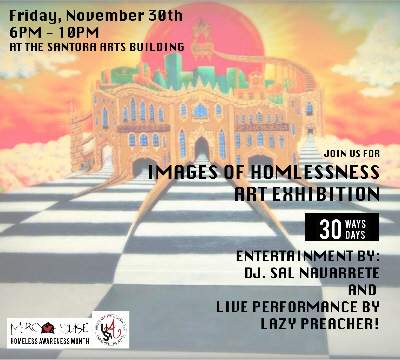 FOR IMMEDIATE RELEASE: NOVEMBER 27, 2012
Press Contact: Alicia Rojas , alicitarojas@yahoo.com, 714 907 5468
INTERACTIVE ART EXHIBIT SPOTLIGHTS OC'S HOMELESS
As a creative end to Mercy House's "30 Days in 30 Ways" campaign to raise interest in Homeless Awareness Month, a silent auction and interactive art exhibit will take place at the historic Santora Arts Building in collaboration with United Artists of Santa Ana (UASA).  A warm clothing drive and holiday art faire will round out the evening.  A portion of the proceeds will benefit Mercy House's important services for the homeless in our community as well as support the work of United Artists of Santa Ana.
Homeless Awareness Month – Closing Event & Art Auction
Friday, Nov. 30th – 6pm to 10pm
Santora Arts Building
207 N. Broadway, Santa Ana 92701
Entertainment by:
DJ Sal Navarrete &
 Music by "Lazy Preacher" Known for mellow sensibility and acoustic harmony, rock band Lazy Preacher is Orange County's little secret.  Their fifth album, Yellow Elbow Pillow, will be released January 2013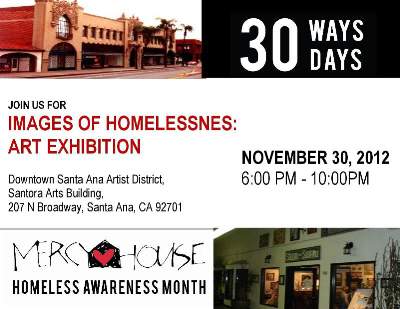 Event guests are encouraged to bring warm items for donation, such as sweaters, gloves, hats, scarves, coats, blankets, thermals, new underwear and socks. A special "Images of Homelessness" exhibit will be on display featuring interactive art by Occupy Santa Ana and UASA artists, as well as a silent auction featuring work from many local artists.
Mercy House provides housing and comprehensive supportive services for a variety of homeless populations which include families, adult men and women, mothers and their children, persons living with HIV/AIDS, individuals overcoming substance addictions, and some who are physically and mentally disabled.
Help end the cycle of homelessness in Orange County by raising awareness of homeless issues in our community.  In order to address the needs of the homeless this winter season Mercy House will be operating the Orange County Armory Emergency Shelters. Please visit their website at www.mercyhouse.net to sign up to volunteer or provide your support to this important program.
###