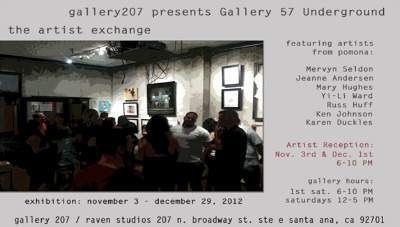 For Immediate Release:
November and December Gallery 207 presents the Artist Exchange
Artist Exchange 2012 allows creative energy amongst art communities in Los Angeles and Orange County areas.  Welcome the city of Pomona Artists from Gallery 57 Underground to our Santa Ana space in Gallery 207!
Russ Huff
Ken Johnson
Karen Duckles
Lisa Brugger  
Join us at the Artist Reception on Saturday, December 1st  from 6-10 PM at Gallery 207/ Raven Studios, 207 N. Broadway St. Suite E, Santa Ana 92701!
Featuring Artists of Gallery 207:
Calvin Pennix, current expressionism series, Wavelength, explores interaction versus coexistence
Ben Walker, a self taught Artist/Painter. New Series, The Drag Queen Killer.
Shelly Stokes exhibits west coast landscapes & nature through digital photograph
Caesar Alzate Jr. the paintings communicate my expression of freedom, individuality, originality, and uniqueness.
Krystof Andres, Photographer & Cinematographer's documentation of the earthquake in Haiti 2010
Jason Kuncas, Representative paintings for the ocean lifestyle
###