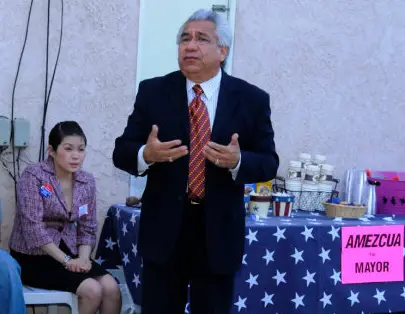 Former State Senator Joe Dunn, is the Chair of the Voice of OC news blog – which has really been going after Santa Ana Mayor Miguel Pulido of late.  Dunn, apparently, is still mad that Pulido blocked him from moving the 4th Court of Appeals building to Irvine.
Dunn also has taken to referring to Pulido's opponent, lawyer Alfredo Amezcua, as "the mayor."  Well, not quite Dunn.  However, it figures that Dunn and Amezcua would be two peas in a pod.
Amezcua's latest campaign email newsletter states that "we deserve jobs and economic progress."  He goes on to say that we need to combat the highest unemployment in Orange County, with programs to attract and retain businesses that hire our residents.  That sounds great, but Amezcua's alliance with Dunn runs totally counter to those expressed goals.  Dunn is, and always has been, a cancer on our state economy. 
Dunn became wealthy because of lawsuits against businesses.  But that's not all.  When he was a State Senator he relentlessy lobbied for more bills that would create more lawsuits and money for his trial lawyer brethren, according to an article in the Jewish World Review.
Here are just a few examples of the job-killing bills that Amezcua's pal Dunn championed while in Sacramento:
SB 796 (Dunn) Employment: Private Attorneys General Act of 2004. Allows private rights of action by employees to recover penalties for violations of the Labor Code that have not been collected by the Labor and Workforce Development Agency. Known as "Sue Your Boss" this is a bill that allows an employee to sue their boss for technical labor violations where no harm ever occurred. A mistakenly out of date elevator permit could cost an employer $16 million dollars in damages!
SB 211 (Dunn) Residential care facilities for the elderly: This bill attempted to prohibit an agreement to arbitrate future disputes from being included in any agreement for admission to a residential care facility for the elderly. Dunn wanted to prohibit arbitration – or non-judicial resolution – for problems related to senior housing – forcing issues into expensive court proceedings where only trial lawyers would profit.  
SB 1569 (Dunn) Provider remedies: Senator Dunn also authored legislation allowing doctors to sue HMO's for unpaid medical claims. While we are all for physicians and everyone else being paid fairly for their work – this would create an avalanche of unintended consequences.
But that's not all.  According to investigative reporter Brian Joseph, Dunn also did a very bad thing when he was head of the California Medical Association.  Joseph wrote that Dunn defended a program called Diversion, which allows doctors and surgeons who are drunks or are on drugs to keep practicing medicine while undergoing treatment.  But patients are kept in the dark!  Several patients have in fact undergone botched operations because of this program.
Dunn now heads up a law firm in Sacramento, called the Senators Firm, that "combines a comprehensive understanding of and access to key legislative and regulatory channels with a top flight complex litigation and civil trial practice," which is a fancy way of saying that he is both lawyering and lobbying.