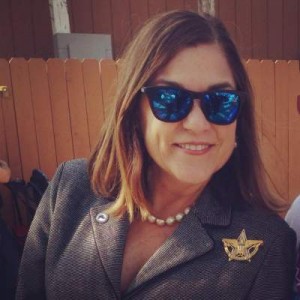 Santa Ana resident Alex Flores started his new business, Unum Sunglasses, almost on a whim when he realized he wanted to be able to say, when asked what he does, that he is a business owner.  Recently Flores took another leap of faith, quitting his day job to be able to spend all his time selling Unum sunglasses.
Flores has a small office in Downtown Santa Ana.  We met recently to talk about his business venture over coffee at the Gypsy Den Café.  (My favorite is their Dirty Chai – a combination of Chai Tea and Espresso).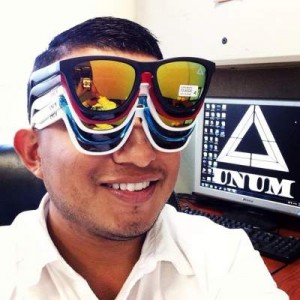 Flores was brought to this country when he was an infant, by his mother, when she fled from a bad marriage in Mexico.  She has raised her family the hard way, working as a custodian at UCI.  I first met him when he was involved in the student government at Santa Ana College.  At the time he was undocumented but he says he now has a Social Security number and he plans to return to Santa Ana College, to finish his education and to get involved again with their student government.
The sunglasses that Flores is pitching feature his designs.  They are made in Taiwan and they are high quality polarized sunglasses – that he sells for the low price of $19.95.  I paid almost $100 for a pair of polarized sunglasses at Costco!  And I must say that the Unum Sunglasses appear to be of similar quality.
Flores says he is not trying to compete with expensive sunglasses but he says that most folks want to have a back up pair – and he has them available in just about every color.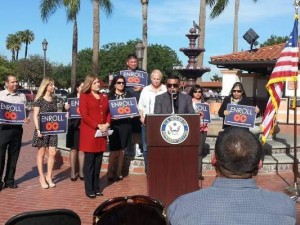 Flores has a great idea too – he is talking to local non-profits, including Little League baseball teams, about selling his sunglasses as a fundraiser.  I would much rather buy his sunglasses than more popcorn and candy bars!
Flores has his heart in the right place.  He is donating 10% of his proceeds to a scholarship fund.  He may partner with an existing fund or strike out on his own.  Either way local students will win.
Can Flores' venture make it?  Well so far it is doing great and he is selling sunglasses to folks all over the world.  He has become a savvy user of social media.
Be sure to visit Flores' company website as he often posts special offers there.  Click here to buy your own pair of Unum Sunglasses!