An unidentified man was shot while riding a bicycle in Santa Ana early Monday morning, at 2:45 a.m., at the 4800 block of McFadden Avenue, according to the O.C. Register.
The victim was traveling west on McFadden Ave. when a green SUV heading in the same direction pulled up next to him and an unidentified assailant opened fire, shooting four or five times at him with a gun, according to the SAPD.
The victim was hit twice in his upper body. The attackers sped off and the man was taken to a local hospital with what was described as non-life-threatening injuries.
For some reason the SAPD believes the attackers were not part of a gang, perhaps because the victim had no gang ties. However it is widely known that gangs will randomly attack people as part of their initiation rites.
The police also said that the victim was cooperative, which they consider to be rare when it comes to Santa Ana shootings. The victim did not know why he was shot.
There have now been close to 60 shootings in Santa Ana since New Year's Day.
In the last week the matter escalated as there were four shootings that resulted in one wounded policeman and two dead suspects. Police officers fired their weapons in two of these incidents.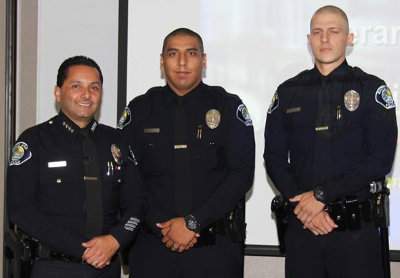 The people of this city are getting sick and tired of the gang violence. It is getting more and more obvious that the inexperienced Police Chief that the City Council hired, Carlos Rojas, is over his head, while our police force continues to be understaffed.
This shooting happened south of Heritage Park, next to Fitz Intermediate School, in Santa Ana's Ward 6, which is represented by Councilman Sal Tinajero.