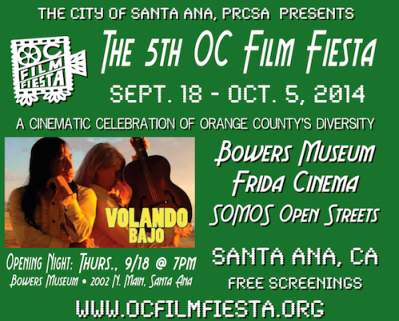 5th OC Film Fiesta Kicks Off Thurs., Sept. 18 at Bowers Museum
Fest Opens With Volando Bajo, Homage to Mexican Musica Romantica of the '80s
(Santa Ana) The 5th Annual OC Film Fiesta opens Thurs., Sept. 18 at 7 pm at the Bowers Museum in Santa Ana with a free screening of Volando Bajo, acclaimed Mexican director Beto Gomez's hilarious homage to musica romantica of the 1980s. The Bowers Museum is located at 2002 Main St. in Santa Ana. The OC Film Fiesta, which features three weekends of films, documentaries and workshops, runs through Sunday, Oct. 5.
Presented by the City of Santa Ana PRCSA and produced by Pocharte, the OC Film Fiesta is a free cinematic celebration of Orange County's diversity and multicultural heritage. The OC Film Fiesta continues on Friday, Sept. 19 at the Bowers with a special 1:30 pm screening of Fernando de Fuentes' 1936 classic Vamonos con Pancho Villa with a discussion about the film's legendary composer, Silvestre Revueltas.
This year's OC Film Fiesta will also feature a special screening of Alex Rivera's modern science fiction classic, Sleep Dealer, the documentaries Ilusión Nacional and Weight of the Nation, films from the Orange County School of the Arts and other youth programs, as well as a special sneak preview of the new documentary series Flat Track Around The World in association with the OC Roller Girls.
Additionally, the OC Film Fiesta will screen The Man Who Shook the Hand of Vicente Fernandez, the final film by Hollywood legend Ernest Borgnine.
Screenings will be held at the Bowers Museum, the Frida Cinema and the City of Santa Ana's SOMOS (Sunday On Main Open Streets) bicycle event on South Main St.
Launched in 2010, the OC Film Fiesta adds to the cultural vitality of downtown Santa Ana, promotes community involvement and deepens relationships with local cultural groups, businesses, colleges and the film industry. Schedule subject to change.
###