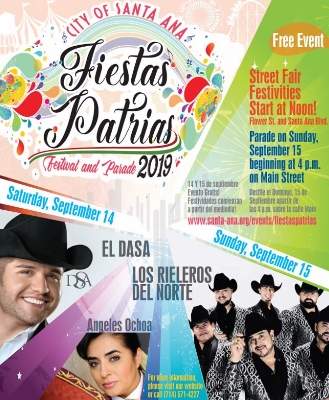 The City of Santa Ana's 41st annual Fiestas Patrias Festival is taking place on Saturday, September 14 and Sunday, September 15, 2019. The festivities begin at 12:00 p.m. each day on Flower Street and Santa Ana Blvd. This annual tradition celebrates Santa Ana's vibrant Mexican culture with A-list performers each night, delicious food, affordable shopping, interactive activities, exciting carnival rides for children of all ages, and a beer garden open for adults only to enjoy cold, refreshing beverages while enjoying on stage performances.
On Saturday, September 14, the festivities begin with a performance by Angeles Ochoa. Ms. Ochoa's talents go beyond expectations; her versatility and great personality have opened many doors and have led her to be recognized not only for her voice, but also for her presence and hard work. She was host of "Noches Tapatias," a program dedicated to Mexico's cultural and musical richness. She received multiple awards and recognition for her work; "El Canto de Oro" (Golden Voice), and "Embajadora de Turismo" (Tourism Ambassador), "La Reyna de la Cancion Ranchera" (The Queen of Mexican Folk Music) and the list goes on.

Thereafter, the City of Santa Ana along with the Consulate of Mexico will host the annual El Grito Ceremony on the Festival's main stage, located on Flower Street beginning at 7:00 p.m. on Saturday, September 14, The ceremony honors the traditional call to arms on the eve of Mexican Independence Day and is a massive, synchronized call that dates back to 1810 and celebrates the anniversary of the fight for Mexican Independence.
Following the El Grito ceremony, acclaimed Mexican Singer El Dasa will be performing on the festival's main stage. At age 15, El Dasa became the lead singer of Banda Costa Azul, from Hermosillo, Sonora. He also participated in the edition of Mexico's La Academia 6: Última Generación, At age 18, he was hired by Vicente Fernandez as his driver, where El Dasa would sing for his idol. The Mexican icon was moved by El Dasa's singing and invited him on-stage with him at the Gibson Amphitheater for an "Amor de los Dos," duet and encouraged the audience to support his career.
The festival celebration continues on Sunday, September 15 as the Rieleros del Norte take the stage. Since the '80s, Los Rieleros del Norte have been one of the top bands in traditional Mexican music. Their specialty is norteño, an exuberant, often sentimental style that is also known as conjunto or Tex-Mex. Los Rieleros del Norte have recorded many albums over the years. These include; Estampida Norteña, Prieta Orgullosa, Aventura Pasada, and many other albums which have now become classics in regional Mexican music. One of their biggest hits was 1999's "Te Quiero Mucho," which reached number one on Billboard's Hot Latin Tracks chart. Between 2003 and 2015, they placed no less than five albums in the Top 200, and ten more on Top Latin and Mexican Regional charts including Abriendo Caminos, Y Que el Mundo Ruede, En Vivo Para Ti, and 2015's Corridos y Canciones de Mi Tierra.
A major event highlight on Sunday is the City's annual Fiestas Patrias Parade from 4:00 p.m. to 6:00 p.m. Over 100 parade entries will be showcased this year. The Fiestas Patrias parade will march down Main Street towards Civic Center Drive. This year's parade theme is "Celebrando Nuestro Legado" or "Celebrating our Legacy".
The 2019 Fiestas Patrias event is being produced by the City of Santa Ana. For more information, please visit link www.santa-ana.org/events/fiestaspatrias or contact the Special Events Office at (714) 571-4227.
SANTA ANA – La Ciudad de Santa Ana celebrara el 41o Festival Anual de Fiestas Patrias el sábado, 14 y domingo 15 de septiembre, 2019. Las festividades darán inicio ambos días a las 12 del mediodía en la Calle Flower y Santa Ana Blvd. Esta tradición anual celebra la vibrante cultura Mexicana de Santa Ana con entretenimiento que incluye artistas de primer nivel, comida deliciosa, artesanías tradicionales, actividades interactivas con grandes juegos mecánicos para niños de todas las edades, y un jardín de cerveza (abierto sólo para adultos) para disfrutar bebidas refrescantes.
El sábado, 14 de septiembre las festividades darán inicio con la presentación de Ángeles Ochoa. El talento, versatilidad, y gran personalidad de la Sra. Ochoa le han llevado a abrir muchas puertas y ser reconocida no solo por su voz, sino también por su presencia y excelente trabajo. La Sra. Ochoa fue anfitriona de "Noches Tapatías", un programa dedicado a la riqueza musical y cultural de México. Recibió múltiples premios y reconocimientos por su trabajo tales como "El Canto de Oro", "Embajadora de Turismo", "La Reyna de la Canción Ranchera", y muchos más.
Continuando con las festividades, la Ciudad de Santa Ana en colaboración con el Consulado de México será el anfitrión de la ceremonia anual del Grito de Independencia, que se realizará el día 14 de septiembre a las 7:00p.m. en el escenario principal del Festival, localizado en la calle Flower. La ceremonia representa la tradicional llamada al levantamiento en armas en la víspera del día de la independencia de México. El llamado masivo y sincronizado se remonta a 1810 y celebra el aniversario de la lucha por la independencia de México.
Después de la ceremonia del Grito, el aclamado cantante El Dasa, se presentará en el escenario principal del festival.
A sus 15 años, El Dasa se convirtió en el vocalista de la Banda Costa Azul, de Hermosillo, Sonora. También participó en la edición de La Academia 6 de México: Última Generación. A los 18 años fue contratado por Vicente Fernández como su conductor, donde El Dasa acostumbraba cantar para su ídolo. El icono mexicano fue movido por el canto de El Dasa, lo invitó a cantar a dúo "Amor de los Dos" en el escenario del Anfiteatro Gibson y animó al público a apoyar su carrera.
La celebración continúa el domingo, 15 de septiembre con la presentación de Los Rieleros del Norte. Desde los años 80, Los Rieleros del Norte han sido una de las mejores bandas de música tradicional mexicana. Su especialidad es el norteño, un estilo exuberante y a menudo sentimental también conocido como conjunto o Tex-Mex. A través de los años Los Rieleros del Norte han grabado muchos álbums; estampida Norteña, Prieta Orgullosa, Aventura Pasada y muchos otros que se han convertido en clásicos de la música regional mexicana. Uno de sus mayores éxitos fue el de "Te Quiero Mucho," y alcanzó el número uno de Hot Latin Tracks Billboard en 1999. Entre 2003 y 2015, colocaron nada menos que cinco álbumes en el Top 200, y diez más en las listas de Top Latino y Regional Mexicano incluyendo; Abriendo Caminos, Que el Mundo Ruede, Vivo Para Ti y Corridos Canciones de Mi Tierra.
Un destacado acontecimiento que también se llevará a cabo el domingo será el Desfile Fiestas Patrias de las 4:00 p.m. a las 6:00 p.m. Más de 100 unidades se presentarán este año. El desfile de Fiestas Patrias marchara por la Calle Main hacia la zona centro de la ciudad y sobre la Civic Center. El tema del desfile este año es "Celebrando Nuestro Legado".
Fiestas Patrias es producido por la Ciudad de Santa Ana. Para más información sobre el evento, visite www.santa-ana.org/events/fiestaspatrias o llame a la oficina de Eventos Especiales al (714) 571-4227.