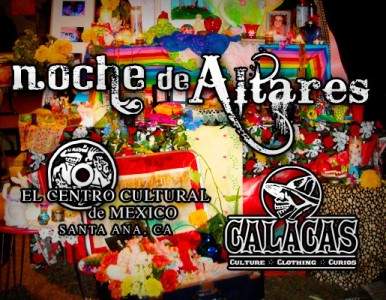 The 11th Annual Noche de Altares is set for Saturday, November 2, 2013, from 1 to 10 pm, at 4th and Birch Streets, in Santa Ana.
This event is free to the public. The event includes
Traditional Altars
Visual Arts
Artisan Vendors
Arts and Crafts for Kids
Food
Live Performances
Plus Closing Bands
La Misa Negra
La Santa Maria
Noche de Altares is a community-based event celebrating Día de los Muertos (Day of the Dead), one of México's oldest, indigenous festivals. Organized by volunteers, the purpose of the celebration is to honor the ancient traditions of the festival and bring community members together through art, culture, and compassion.
For one night, families, students, community organizations, activists, artists, and businesses are invited to build an altar in memory of a deceased loved one or to bring awareness to a social issue.
Participants in past events have dedicated their altars to their parents, siblings, and friends. They have also dedicated their altars to soldiers who have died in war, women who have made a significant impact in history, and people who have died of AIDS, cancer, and diabetes.
In addition to viewing beautifully created altars, attendees will be entertained by cultural performances and live music. Children can get their face painted and participate in free, art workshops. Local artists will be selling their wares and local restaurants will be selling their most delicious dishes. Finally, attendees will have a photo opportunities with La Catrina, the modern-day icon of Día de los Muertos created by Mexican artist Jose Guadalupe Posada.
This event is sponsored by Calacas and El Centro Cultural de Mexico.
For information contact: rudy@calacasinc.com.
Click here for a slide show of pictures I took at a previous Noche de Altares.