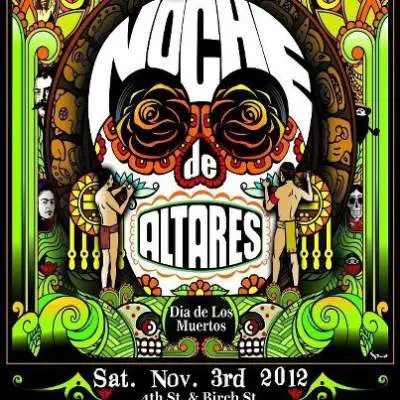 Announcing the 10th Annual Noche de Altares, which will take place on Saturday, November 3rd, 2012, from 1:00pm – 10:00pm., at 4th & Birch Street, Downtown Santa Ana.
Take part in this unforgettable community event by participating as an altar builder in the 10th Annual Noche de Altares! Build an altar dedicated to a loved one or to bring awareness to a social issue.
Schedule of Events:
1:00 pm – 1:30 pm – Chilenos
1:40 pm – 2:00 pm – Santa Ana Youth Skit
2:00 pm – 2:30 pm – Bolivianos
2:45 pm – 3:30 pm – Ballet Folklorico de Centro
3:40 pm – 4:20 pm – Mariachi de San Juan Capistrano
4:00 pm – 5:00 pm – Aztec Dancers Bless Event
 4:30 pm – Sunset, La Catrina begins Procession & Lighting Candles
4:30 pm – 5:00 pm – Relampago del Cielo
5:15 pm – 6:00 pm – Banda Estrella de Michoacan
6:20 pm – 7:00 pm – Son del Centro & Son Kids
7:20 pm – 8:00 pm – Los Santaneros (Cumbia/Rock)
8:20 pm – 9:25 pm – Tokeson
We Need Your Help!Noche de Altares is a free, family-friendly, community event organized and run entirely by a large group of volunteers from El Centro Cultural de México, Calacas Inc., and several other local businesses and organizations. Every year, these volunteers work tirelessly to make each event better than the last and truly beneficial to the community they serve. As a supporting community member, we need your help to make this year's event the most memorable yet by making a donation in the amount of $25.00, $50.00, $100.00….or more!For your generous donation, you will be recognized on the event website and program.
Additionally, you may make your donation in memory of a deceased loved one and their name will also be memorialized on the event website and program.
Download Community Support Donation Form! WORD – PDF
Contact Jackie Cordova by email jackie@calacasinc.com or by phone (714) 662-2002 for more information.