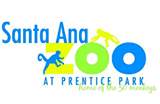 The Friends of Santa Ana Zoo (FOSAZ), a non-profit organization, is pleased to announce its 27th annual gala fundraising event, "Zoofari Safari," taking place Saturday, August 24 from 5:30 pm to 11 pm at the Santa Ana Zoo in Prentice Park, located at 1801 East Chestnut Avenue in Santa Ana. Throughout the fundraiser guests are welcome to bid on wonderful trips, unique baskets, artwork and one-of-a-kind gifts during the event's live and silent auctions.
Tickets sales, media and sponsorship opportunities are now available to the public for purchase online at www.santaanazoo.org or by calling (714) 953-8555 x10.
With an expected attendance of more than 400 people, Zoofari guests are treated to complimentary valet parking, a first-class catered dinner by Parties by Panache, and a hosted bar of spirits, wine and beer. Partygoers will enjoy a "Serengeti Sunset" signature drink, themed photo op, décor by R.W.B. Party Props and dancing to the "Groove Factory" live band.
"Zoofari is a first-class fundraising event that demonstrates the love and investment that the local community, surrounding businesses and FOSAZ have for the Zoo," says David Exline, President of the FOSAZ Board. "Our 2019 gala promises to be full of fun and laughter. Thank you to our local community, sponsors, and loyal FOSAZ members for your continued sponsorship and support of the Santa Ana Zoo. We have an awesome master plan in play at the Zoo and are accomplishing so much thanks to the Zoo's amazing leadership team, staff, and all those who support and advocate for the Zoo."
Honorees this year are Jane Olin and Tim Jerkovich who have supported the conservation programs at the Zoo over the years and most recently the "Frog Pod" saving endangered species.
"Zoofari has and will continue to play an integral role in raising the funds needed for all the special projects and improvements going on here at our favorite community Zoo including educational programs, breaking ground on new animal habitats, tackling important conservation initiatives, introducing new rides and upgrading service facilities for our guests to use and enjoy," says Cathi Decker, event manager and Executive Director of FOSAZ.
Tickets to this exclusive black-tie, fundraising gala under the stars are $325 each. Private tables for 10 are available for a special rate of $3,000 each. Space is limited. Guests must purchase tickets and tables in advance of the event.
The Santa Ana Zoo is home to more than 260 animals, including 60 of the most interesting and engaging monkeys and several endangered species. The parking, park and grounds are wheel-chair accessible. The Zoo is beautifully landscaped and showcases a wide array of succulents, flowers and other conservation-friendly varietals. Inside the Zoo there is a wonderful playground with nearby seating for parents and guardians. Also available throughout the Zoo are picnic tables and rest areas, and tons of shade, as well as the famous Zoofari Express Train, the Conservation Carrousel and the new Fifty Monkey Ferris Wheel.
Open daily from 10:00 am – 4:00 pm, the Santa Ana Zoo participates in conservation efforts to save local and South American species, including frogs, turtles, and lion tamarins. To become a Member of the Zoo, please call (714) 953-8555 x12. The Santa Ana Zoo in Prentice Park is located at 1801 East Chestnut Avenue, Santa Ana, CA 92701.
For more information call 714-836-4000 or visit our website at www.santaanazoo.org. You can also follow us on Twitter, join us on Facebook, or discover us on Instagram.