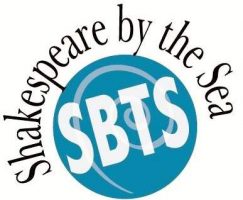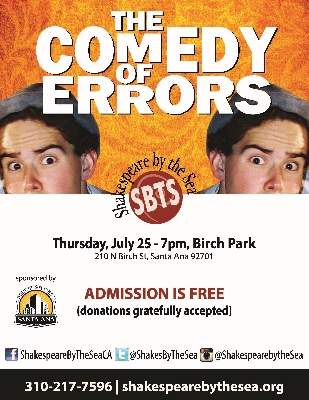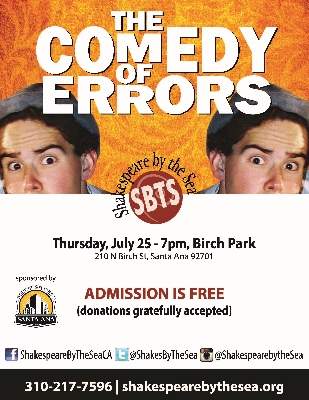 Join us for a free live performance of William Shakespeare's highly acclaimed The Comedy of Errors at Birch Park on Thursday, July 25, 2019 at 7:00 p.m. The outdoor performance will be presented at Birch Park, located at 400 W. 3rd Street in Santa Ana and will be presented by the talented Shakespeare by the Sea Theatre Company.
The Comedy of Errors is the story of two young visitors who arrive in the city unaware that their long-lost twins already live there. Over the course of a single day, everything that can go wrong does go wrong: a marriage at breaking point, a missing gold chain, an unpaid debt, and a dubious arrest. A classic Shakespearean romp of mistaken identity-it's mischief and mayhem galore!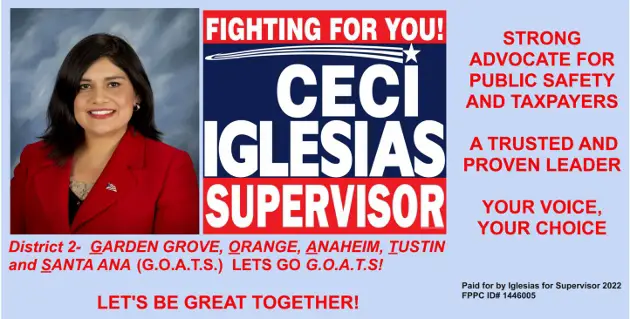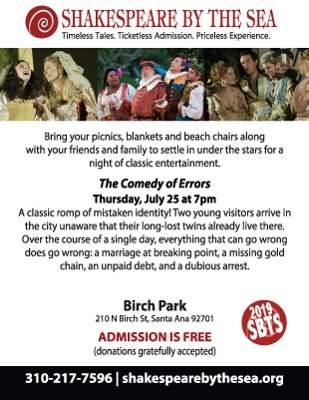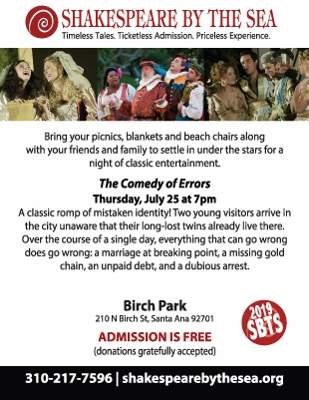 The performance begins at 7:00 p.m. but the public is encouraged to arrive 30 minutes prior to obtain their spot. Public Parking is directly adjacent to the park. The public is welcomed to bring their own chairs, blankets and picnics or pick up dinner before the show from their favorite local Santa Ana eatery. Join us for a dramatic night of theater under the stars!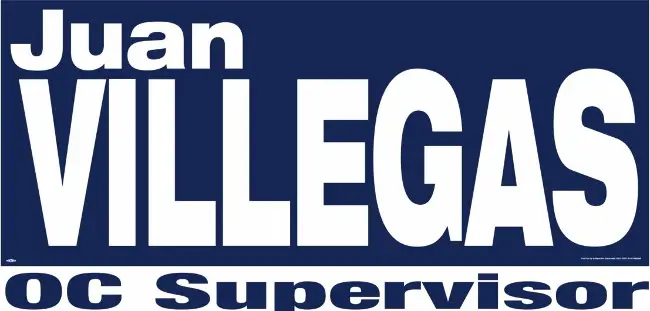 For more information: https://www.santa-ana.org/events/shakespeare-park
Santa Ana, California – Acompáñenos a disfrutar una presentación gratuita de la aclamada obra Shakesperiana "La Comedia de Errores", presentada por la talentosa compañía de teatro Shakespeare by the Sea. La obra se presentará este 25 de julio, 2019 a las 7:00 p.m. en el parque Birch, situado en el 400 al Oeste de la Calle Tercera, en la esquina de las calles Tercera y Ross en Santa Ana.
"La Comedia de Errores" es el cuento de dos jóvenes visitantes que llegan a la ciudad sin saber que sus gemelos perdidos ya viven allí. En el transcurso de un solo día, todo lo que puede ir mal va mal: un matrimonio a punto de ruptura, una cadena de oro perdida, una deuda impaga y una dudosa detención. ¡Un clásico jugueteo Shakesperiano de identidad equivocada, con travesuras y desorden a montones!
La obra inicia aproximadamente a las 7:00 p.m., pero es recomendable llegar 30 minutos antes para acomodar sus sillas en un buen lugar. Se recomienda traer sillas, cobijas, y canasta de picnic, o recoger su cena de alguno de los muchos restaurantes cercanos. Estacionamiento público cercano al parque. ¡Acompáñenos a disfrutar de una noche de drama bajo las estrellas!
Para más información: https://www.santa-ana.org/events/shakespeare-park