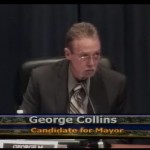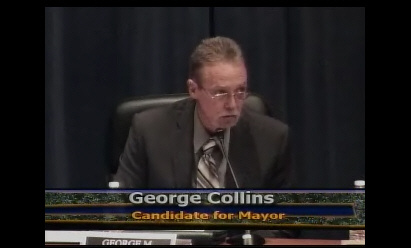 Santa Ana Councilman Sal Tinajero won in 2006, because of George Collins.  Mayor Miguel Pulido threw his entire political machine behind Jennifer Villasenor, but then Collins jumped into the race for Ward 6.  He effectively split the vote, allowing Tinajero to prevail.
Collins got 5,419 votes in 2006.  Villasenor got 12,922 votes.  Tinajero won with 13,802 votes.
Today Tinajero is part of a progressive majority on the Santa Ana City Council.  Villasenor is on the Santa Ana Housing and Redevelopment Commission.  And Collins?  He is running for Mayor.  Again.
Collins ran in 2008, which is also when Santa Ana City Councilwoman Michele Martinez challenged Pulido.  Collins ended up with 7,610 votes.  Martinez got 16,199 votes.  Pulido easily won with 30,352 votes.
How will Collins do this time?  Well, there are quite a few challengers to Pulido this year.  They include two first-time opponents, Charles Hart, a County government worker; and Roy Alvarado, a retired union engineer.  Also running is criminal defense lawyer Alfredo Amezcua, who got over 54,000 votes in 2004, when he won a seat on the Rancho Santiago Community College District's Board of Education.  He mysteriously resigned before his term was over.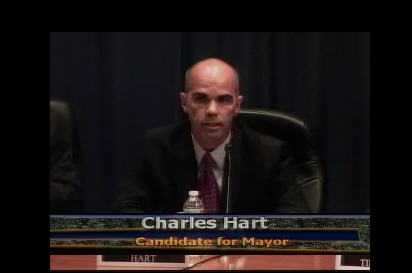 Collins will no doubt cost Hart any chance he had at a victory.  Hart came out of nowhere.  To win he must get all the white votes – Collins will assure that he fails in that regard.  I still think Hart might come in second this November.  Hart is quite popular with Santa Ana's "Usual Suspects."  But don't underestimate Collins.  He has a following and he increased his votes from 2006 to 2008.
Collins has a unique way of campaigning.  He whirls around on his one-man Segway, dropping flyers all over town.  He bought his own high speed color copier, and he says he can make thousands of copies in a very small amount of time, at a very low cost.  He is his own one-man army.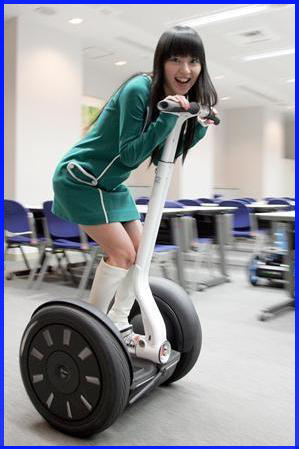 Collins uses a Segway to deliver campaign flyers all over town
What exactly does Collins stand for?  He is centering his campaign this year around the premise of taxing wire transfers to foreign countries.  I got into an argument with him about this idea at a candidates forum this week.  It seems to be that this idea punishes the very poorest residents of our city even as they try to send money to folks who are even poorer.  It is rather heartless.
Collins however is not generally a cold guy.  He donates a lot of time to various charities in town.  He just has an issue with immigrants.  That's too bad, but he is a Republican and that's how they roll.
Collins also says he supports Santa Ana's different cultures.  He is married to a Peruvian immigrant.  But if you visit his website you will find a screed about how the Mexican flag hangs higher at our Plaza of the Flags, at the Civic Downtown area.  Collins also spoke, at the recent forum, about American culture.  I believe the only real American culture is that of the Native Americans.  Everything else came from somewhere else.  Collins disagrees.
You would think the Usual Suspects would endorse such beliefs, but they don't trust Collins.  He is truly independent and self-motivated.  He is the last guy who will kiss up to the Usual Suspects.  And so he continues to campaign on his own, blazing through Santa Ana on his Segway.  Don't scoff.  He just might be the deciding factor in this year's race.
You can learn more about Collins at this link.  He also is the publisher of Santa Ana Insight, a video blog.
I must add in closing that Stanislav Fiala, a Czech immigrant who also ran for Mayor in 2008, is now making noise about running a write-in campaign in November.  He got just over one thousand votes in his last campaign.  If he does jump in this year, Hart will lose even more votes.