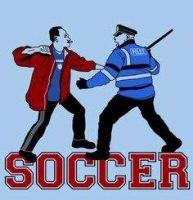 The SAPD arrested five men that were caught on cellphone video getting into a brawl that also involved 45 others at a soccer match that occurred on Sunday, June 25, at Eddie West Field, in Downtown Santa Ana, according to the O.C. Register.
The soccer match was the Game of Legends featuring former Club America and Pumas professional players. The event was supposed to be a fundraiser for the United Soccer Talents Foundation, a Santa Ana-based organization that supports soccer players.
Unfortunately the game had to be canceled at half time after dozens of spectators rushed on to the field and started fighting with each other according to the SAPD.
Apparently the soccer players were not on the field when the fight broke out. The fight was due to intense rivalries between the fans of the respective soccer clubs.
There were 14 security guards at the vent, backed up by a few SAPD police officers. When the brawl broke out more police officers were called in. There were eventually a total of 59 Orange County sheriff's deputies and SAPD police officers and a sheriff's helicopter at the scene as well.
All of this happened even though alcohol is not allowed at Eddie West Field.
The five men who were arrested included: Josue Andres Rosas Garcia, 29, of Santa Ana; Fernando Alberto Vargas, 34, of La Puente; Israel Rodriguez Zarate, 36, of Pasadena; Ricardo Anotnion Mora Abarca, 23, of Anaheim; and Jose Joaquin Velez, 28, of Los Angeles.
Each of these men were charged with violations including assault and battery, assault with a deadly weapon, inciting a riot, or resisting arrest.
The city of Santa Ana runs Eddie West Field aka Santa Ana Stadium. The soccer match in question was promoted by Balderas International, a promotion company. They paid $25K to rent the field for the match, according to the City of Santa Ana.
While there was a lot of security at the game one must wonder if the spectators got drunk in the parking lot or brought alcohol into the stadium. It is hard to believe that these soccer hooligans were sober.