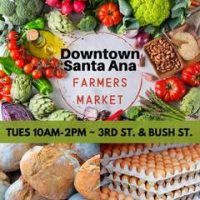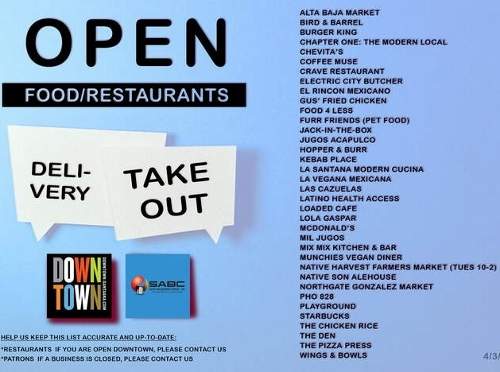 The farmers market and restaurants in Downtown Santa Ana remain open for delivery or take-out during the stay-at-home order.
Place your food or beverage order online or over the phone. Over 30 restaurants and cafés in Downtown Santa Ana are open to serve you. Over a dozen parking spaces have been reserved for 15 minutes of pick-Up or delivery throughout Downtown, or take advantage of two hours of free parking in City owned structures. For a full list of "open for business" restaurants and cafés please visit: www.downtown-santaana.com.
Need fresh fruit, vegetables, eggs, or artisan bread? Visit the Downtown Santa Ana Farmer's Market every Tuesday from 10 a.m. to 2 p.m. on the corner of 3rd and Bush streets. Social distancing is maintained and encouraged while at the Farmers Market. Online orders are also available with a wide variety of fresh produce.
For details, please visit: www.nativeharvestevents.com. Visitors may park in City structures for free for up to two hours. Find parking structures by visiting: www.santa-ana.org/downtown.
Downtown businesses are doing their part in helping flatten the COVID-19 curve by taking extra precautions as outlined by City, County and State authorities.
Mercado Campesino y Restaurantes en el Centro de Santa Ana Están Abiertos
El mercado campesino y los restaurantes en el Centro de Santa Ana están abiertos para comida para llevar o entregar durante la orden de quedarse en casa.
Haga su pedido de comida o bebida por internet o por teléfono. Más de 30 restaurantes y cafeterías en el Centro de Santa Ana están abiertos para servirle. Se han reservado más de una docena de espacios de estacionamiento para 15 minutos de recogida o entrega en todo el Centro o aproveche el estacionamiento gratuito de 2 horas en las estructuras de la Ciudad. Para obtener una lista completa de restaurantes y cafés abiertos visite: www.downtown-santaana.com.
¿Necesita fruta fresca, verduras, huevos o pan artesanal? Visite el Mercado Campesino del Centro de Santa Ana todos los martes de 10 a.m. a 2 p.m. en la esquina de las calles 3a y Bush. El distanciamiento social se mantiene y se fomenta en el Mercado Campesino. Los pedidos por internet también están disponibles con una amplia variedad de productos frescos.
Para obtener más información visite: www.nativeharvestevents.com. Los visitantes pueden estacionar en las estructuras de la Ciudad de forma gratuita por hasta 2 horas. Encuentre estructuras de estacionamiento visitando: www.santa-ana.org/downtown.
Las empresas del Centro de Santa Ana están haciendo su parte para ayudar a aplanar la curva de COVID-19 al tomar precauciones adicionales como lo describen las autoridades de la ciudad, el condado y el estado.