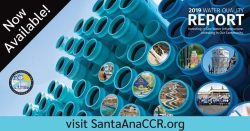 ANTA ANA, Calif. — The City of Santa Ana has released its 2019 Water Quality Report, also known as the annual Consumer Confidence Report (CCR). The report details the quality of Santa Ana's water, which consistently wins the coveted honor of being among the world's best tasting and highest quality.
"As challenging as these times may be, Santa Ana residents and businesses can count on the essential services we provide, the long-term sustainability of our water infrastructure and water quality," said Nabil Saba, Executive Director of Santa Ana Public Works Agency. "In this year's Water Quality Report, you will not only learn about the high standards and safety of the drinking water we deliver, but the investments we are making to improve Santa Ana's infrastructure as well as the important initiatives and opportunities we are pursuing to benefit our residential and business communities."
Each year, the CCR presents important information to help residents make health-based decisions about their drinking water. The cornerstone of the report is easy-to-read tables summarizing the different types of constituents found in the water Santa Ana delivers, the range and average of each constituent measured, and how it compares with allowable state and federal limits.
In addition to this important information, residents can learn about how Santa Ana remains vigilant in meeting the challenges of source water protection, water conservation, environmental compliance, sustainability and community education while continuing to serve the needs of all Santa Ana water users.
The City accomplishes this through a variety of projects and programs, including:
• Replacing five miles of aging pipeline each year.
• Restoring six wells and drilling two new wells.
• Upgrading and modernizing the water distribution and storage system to ensure groundwater is pumped and delivered through our pipelines to the tap with reliability.
• Upgrading the supervisory control and data acquisition system (SCADA).
• Installing new Advanced Metering Infrastructure (AMI), which will allow City personnel and customers access to real-time water consumption data.
• Santa Ana's FOG (Fats, Oils & Grease) and Cross Connection Control programs to help safeguard our ecosystem and health.
• Orange County Water District's Groundwater Replenishment System (GWRS) expansion to reduce the region's dependency on imported water while protecting environmental habitats and natural resources.
"Providing reliable drinking water is a job we take seriously, and one that requires a dedicated and knowledgeable staff to operate equipment, engineer new projects, build infrastructure and test the water that runs through it," said Cesar Barrera, Acting Deputy Director of Public Works, Water Resources Manager. "The City of Santa Ana Public Works Agency takes pride in operating and maintaining a first-rate system that guarantees safe, clean water is available at your tap whenever you need it, even in the midst of the COVID-19 pandemic."
Residents are encouraged to view the report online by visiting www.SantaAnaCCR.org, where they can also download and print their own copy of the entire report. To request a printed copy of the CCR, call 714-647-3320 or email ryhernandez@santa-ana.org.
About the City of Santa Ana Public Works Agency:
The City of Santa Ana Public Works Agency, with its four divisions and professional staff of more than 200 employees, is responsible for the city's infrastructure and quality of life. The agency builds and maintains all public streets, storm drains, sewers, and water facilities, as well as coordinates refuse collection and recycling, street sweeping, public right-of-way landscaping, and graffiti removal. Through the agency's Water Resources Division, it ensures the community enjoys high-quality drinking water. It also ensures the community is able to travel around the city efficiently through the use of a state-of-the-art traffic management system, and collaboration with neighborhood associations and developers to resolve speeding, parking, and traffic problems.
Santa Ana Publica su Informe de Calidad del Agua 2019
Descubra por qué el agua potable de Santa Ana obtiene premios internacionales.
SANTA ANA, Calif. – La Ciudad de Santa Ana lanzó su informe de calidad del agua 2019, también conocido como el informe anual de confianza del consumidor (CCR). El informe cubre en detalle la calidad del agua de Santa Ana, que consistentemente gana el codiciado honor como una dentro de las de mejor sabor y alta calidad del mundo.
"Por desafiantes que sean estos tiempos, los residentes y las empresas de Santa Ana pueden contar con los servicios esenciales que brindamos, la sostenibilidad a largo plazo de nuestra infraestructura y calidad del agua", dice Nabil Saba, Director Ejecutivo de Obras Públicas de Santa Ana. "En el informe de calidad del agua de este año, no solo se enterará sobre los altos estándares y la seguridad del agua potable que suministramos, sino también sobre las inversiones que estamos haciendo para mejorar la infraestructura de Santa Ana, así como las importantes iniciativas y oportunidades que estamos buscando para beneficiar nuestras comunidades residenciales y comerciales".
Cada año, el CCR presenta información importante para ayudar a los residentes a tomar decisiones sobre su agua potable basadas en la salud. El pilar del informe es compuesto de tablas fáciles de leer que simplifican los diferentes tipos de componentes que se encuentran en el agua que entrega Santa Ana, el rango y el promedio de cada componente medido y cómo se compara con los límites estatales y federales permitidos.
Además de esta información importante, los residentes pueden enterarse cómo Santa Ana permanece alerta para enfrentar los desafíos para proteger la fuente del agua, la conservación del agua, la conformidad medioambiental, la sostenibilidad y la educación de la comunidad mientras continúan atendiendo las necesidades de todos los usuarios de agua de Santa Ana.
La Ciudad logra esto a través de una varieded de proyectos y programas, incluyendo:
• Reemplazando cinco millas de tubería anticuada cada año.
• Restaurando seis pozos y perforando dos pozos nuevos.
• Actualizando y modernizando el sistema de distribución y almacenamiento de agua para garantizar que el agua subterránea se bombeé y entregue a través de nuestras tuberías al grifo con fiabilidad.
• Actualizando el sistema de supervisión, control y adquisición de datos (SCADA).
• Instalando la nueva infraestructura de medidores avanzados (AMI), que permitirá al personal de la Ciudad y a los clientes acceso a datos de consumo de agua en tiempo real.
• Los programas FOG (manteca, aceite y grasa) y control de conexión cruzada de Santa Ana para ayudar a salvaguardar nuestro ecosistema y nuestra salud.
• La expansión del sistema de reabastecimiento de agua subterránea (GWRS) del Distrito de Agua del Condado de Orange para reducir la dependencia de la región en el agua importada mientras que protege los hábitats ambientales y los recursos naturales.
"Brindar agua potable confiable es un trabajo que tomamos muy en serio, y que requiere un personal dedicado y capacitado para operar el equipo, diseñar nuevos proyectos, construir infraestructura y probar el agua que lo atraviesa", dijo Cesar Barrera, Subdirector Interino de Obras Públicas, Gerente de Recursos Hídricos. "La Agencia de Obras Públicas de la Ciudad de Santa Ana se enorgullece de operar y mantener un sistema de primer nivel que garantiza que haya agua limpia y segura disponible en su grifo cuando lo necesite, incluso en medio de la pandemia de COVID-19".
Alentamos a los residentes a disfrutar de la comodidad de poder leer el informe en línea visitando www.SantaAnaCCR.org, donde también pueden descargar e imprimir su propia copia del informe completo. Para solicitar una copia impresa del CCR, llame al 714-647-3320 o envíe un correo electrónico a ryhernandez@santa-ana.org.
Sobre la Agencia de Obras Públicas de la Ciudad de Santa Ana:
La Agencia de Obras Públicas de la Ciudad de Santa Ana, con sus cuatro divisiones y personal profesional de más de 200 empleados, es responsable de la infraestructura de la ciudad y la calidad de vida. La agencia construye y mantiene todas las calles públicas, desagües pluviales, alcantarillas e instalaciones de agua, así también coordina la recolección y reciclaje de basura, barrido de calles, paisajismo en las vías públicas y eliminación de grafiti. A través de la División de Recursos Hídricos, la agencia, garantiza que la comunidad disfrute de agua potable de alta calidad. También asegura que la comunidad pueda transitar por la ciudad de manera eficiente mediante el uso de un sistema de gestión de tráfico de última generación y la colaboración con asociaciones y constructores de vecindarios para resolver problemas de exceso de velocidad, estacionamiento y tráfico.