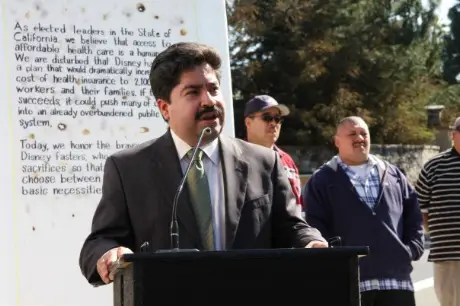 For Immediate Release: April 26, 2011
For More Information Contact: Carol Chamberlain – Office: (916) 319-2069, cell: (916) 804-5355
Solorio Bill, Which Provides Governor Brown with a Revenue Sharing Option to Help Keep OC Fairgrounds in Public Hands, Passes First Assembly Policy Committee
Assembly Bill 35 now moves to Assembly Appropriations Committee
Sacramento – State Assemblyman Jose Solorio (D-Anaheim) presented to the Assembly Committee on Business, Professions and Consumer Protection the merits of Assembly Bill 35, his legislation which would provide Governor Jerry Brown a revenue-sharing option in an effort to keep the OC fairgrounds from being sold. The committee unanimously agreed with the Assemblyman, and passed the measure on a bipartisan 9-0 vote.
"We are willing to share in Orange County," Solorio told the committee. "A revenue sharing plan is a viable option. After closely studying the matter, the OC Fair Board endorsed a revenue sharing proposal as an alternative to the proposed sale of the property."
Solorio also reminded the committee that Governor Brown has publicly stated that he is against the one-time sale of state assets. Providing him with another way to generate revenue may be a better solution for the people of California than a fairground sale, which is now mired in a court battle and will be for some time.
Witnesses supporting AB 35 included Theresa Sears, an advocate with the Orange County Fairgrounds Preservation Society, Jeff Teller, with the Orange County Marketplace at the fairgrounds, and Randy Cheek, representing the Service Employees International Union 1000 Employees who work at the fairgrounds. The next stop for AB 35 is the Assembly Appropriations Committee.
State Assemblyman Jose Solorio is the Chair of the Assembly Insurance Committee and also serves on the Assembly Appropriations and Transportation committees. He represents the Sixty-Ninth Assembly District, which includes the cities of Anaheim, Garden Grove, and Santa Ana. For more information about Assemblyman Solorio, visit www.assembly.ca.gov/solorio.
###
State Assemblyman Jose Solorio represents the cities of Anaheim, Garden Grove and Santa Ana. To learn more about State Assemblyman Solorio and his legislative work, visit his official website. This e-mail communication was authorized and paid for by Jose Solorio Assembly Officeholder Committee, ID 1337257, P.O. Box 26063, Santa Ana, CA, 92799.