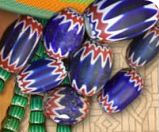 Saturday, April 23, 2011, 10 AM – 4 PM
Come celebrate the beauty of beads, fine crafts and more at the 17th Annual Art of Adorning and Beads Festival at the Bowers Museum.
This annual outdoor event is held in our lovely Key Courtyard and will feature over 60 local vendors selling beads, findings, finished jewelry and more from around the world. Whether you are collecting for your home, your garden or your body, the works of these artisans will nourish your spirit.
You can enhance your experience by attending our Distinguished Lecture: Remembering Africa or by participating in one of our hands-on Make It & Take It Bead Workshops with Marilu Morency.
Tangata will be open from 11 AM – 3 PM. For reservations, 714.550.0906