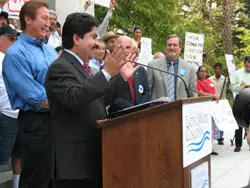 Press Release, For Immediate Release: June 10, 2011
For More Information Contact: Carol Chamberlain – Office: (916) 319-2069, mobile: (916) 804-5355
Solorio Bill to Clean Up Water Quality Moves to the Senate
AB 54 will help small, underfunded water companies secure funds for clean water construction projects
Sacramento – State Assemblyman Jose Solorio (D-Anaheim) presented to his colleagues in the Assembly the necessity for AB 54, a bill he authored to help solve the problem of many small California mutual water companies that cannot afford to upgrade their water quality.
Assembly Bill 54 will expedite state funding and level the playing field between mutual water companies and other public agencies that deliver drinking water to Californians' taps. It also takes a number of steps to get drinking water quality problems on to the radar of the local government community. The bill passed the Assembly unanimously last Thursday.
"It is appalling that in an age when federal law ensures the quality of Americans' drinking water, there are still areas in California where water is not fit to drink. AB 54 will help alleviate that condition," Assemblyman Solorio said.
AB 54 was inspired by Assemblyman Solorio's effort to try to help the Diamond Park neighborhood in Santa Ana secure state funding to connect to the larger, City of Santa Ana water system. Diamond Park's 80 homes get their tap water from one groundwater well contaminated with nitrates. A non-profit "mutual water company" owned by the homeowners operates the well, although the City serves drinking water to almost all other Santa Ana residents. The neighborhood residents cannot afford to pay the high costs of cleaning up the groundwater, so the homeowners decided to dissolve the mutual water company and acquire drinking water from the City.
"We discovered many smaller public water systems throughout the state, particularly those operated by "mutual water companies," also lack the funding and oversight to improve their systems and eliminate contamination," explained Assemblyman Solorio. "All water providers, even small underfunded ones, need to be accountable for the quality of water they deliver."
AB 54 expedites State funding by authorizing "letters of no prejudice" that would allow local water agencies to get started on clean water quality construction projects with their own resources while waiting for the state to finalize a loan or grant from the Safe Drinking Water State Revolving Fund.
The bill also take important steps to make mutual water companies more accountable. It requires company directors to receive training on their legal responsibility to deliver clean and healthy drinking water. And, when a small mutual water company receives a fine for violating the Safe Drinking Water Act, its directors and shareholders must share in the responsibility for paying the fine, or fix the problem as an alternative to paying the fine.
State Assemblyman Jose Solorio is the Chair of the Assembly Insurance Committee and also serves on the Assembly Appropriations and Transportation committees. He represents the Sixty-Ninth Assembly District, which includes the cities of Anaheim, Garden Grove, and Santa Ana. For more information about Assemblyman Solorio, visit www.assembly.ca.gov/solorio.
###
State Assemblyman Jose Solorio represents the cities of Anaheim, Garden Grove and Santa Ana. To learn more about State Assemblyman Solorio and his legislative work, visit his official website.