Santa Ana Unified School District Police Department Swears in Alumni Recruit, Also Presents Officer with Life Saving Award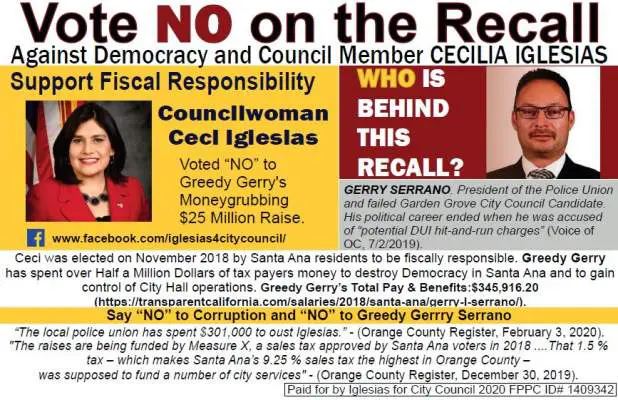 Felix Rivera, a 2006 graduate of SAUSD's Saddleback High School, was sworn in as an officer today, and Officer Brian Singer received the Life Saving Award
Isn't it time for Santa Ana to have a voice on the O.C. Board of Supervisors?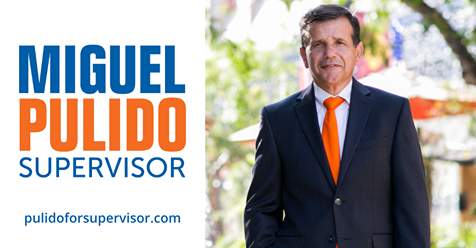 Paid for by Miguel A. Pulido for Supervisor 2020 (ID #1422663)
(Dec. 19, 2017) – The Santa Ana Unified School District (SAUSD) Police Department today honored two of its own during a special recognition ceremony at the district office that was attended by Board of Education members, Superintendent Dr. Stefanie Phillips, district leaders, police department staff, and other supporters.
Advertisement
Is your employer a mess? Call Sasooness.
In the state of California for every 5 hours worked an employee must get a 30 minute, uninterrupted lunch break. For every 3 hours worked an employee must get an uninterrupted 10-minute rest break. Working over 8 hours in a day or 40 hours in a week is due overtime. Don't let your employer screw you! Give us a call at 323 746-8099.
En el estado de California por cada 5 horas de trabajo su patrón le debe permitir tener un receso de media hora sin interrupciones. Si trabaja más de 8 horas en un día o más de 40 horas de trabajo en una semana su patrón le debe pagar tiempo y medio. No deje que su patrón abuse de su trabajo. No importa que no tenga papeles. Usted tiene derechos. Llamenos al 323 746-8099.
Felix Rivera, a 2006 graduate of SAUSD's Saddleback High School, was sworn in as an officer, and Officer Brian Singer received the Life Saving Award. Mark Van Holt, Interim Chief of Police, presided over the ceremony.
Rivera is the department's first recruit police officer, in that this is the first time that the district has hired someone who was not already a police officer or had already gone through the police academy, Van Holt said. After Rivera underwent testing and selection, the department sent him to the Los Angeles County Sheriff's Academy, where he spent the last six months training.
"He did exceptionally well there," Van Holt said. "He was a phenomenal recruit and we're fortunate to have him."
Officer Brian Singer was presented with the Life Saving Award for extracting a trapped driver from a burning car in 2014, saving the motorist's life. He is the first sworn officer to receive the award through a new department policy that allows for officers who display exceptional heroism, valor, and other qualities to be eligible for special recognition.
"There are times when officers go so far above and beyond the call of duty that they risk their lives," Van Holt said. "So for those types of circumstances and those events, that's what these medals are for."
SAUSD is the only school district in Orange County with its own 24-hour, 7-day-a-week police department.
"Here in SAUSD our officers touch our children's lives everyday," said Board President Valerie Amezcua. "Whether you're a School Resource Officer or you're helping students cross the street at an elementary school, everyday our officers place their lives on the line to save our community and to serve us."