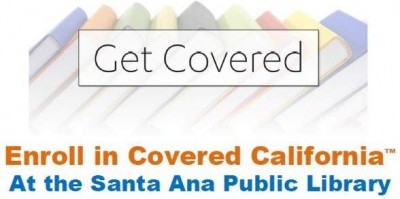 City of Santa Ana, Downtown Orange County
Community Alert: Healthcare Insurance Enrollment at the Library
SANTA ANA, CA (February 4, 2014) – The Santa Ana Public Library will be offering one-on-one assistance to help you select the best plan for your medical needs and budget, as well as to help you find out if you qualify for low-cost or no-cost coverage through Medi-Cal.
This service is provided by bilingual (English/Spanish) certified enrollment counselors. Individual meetings are on a first come, first served basis. Counselors will be available on the following dates:
Tuesdays, February 4, 11, 18, and 25 from 3 pm to 7 pm
Saturdays, February 1, 8, and 15 and 22 from 10 am to 3 pm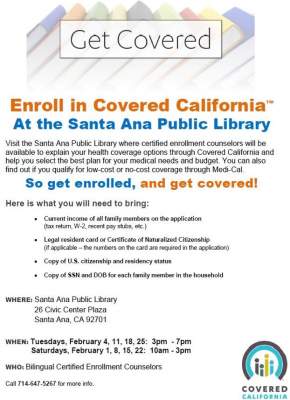 Meetings with counselors will take place at the Santa Ana Public Library, 26 Civic Center Plaza, Santa Ana, CA.
This event is free and open to the public. For more information, please call 714-647-5267.
THE SANTA ANA PUBLIC LIBRARY IS LOCATED AT:
26 Civic Center Plaza, Santa Ana, CA (corner of Civic Center and Ross Street)
###