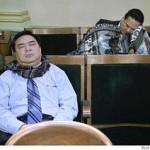 Congressional campaign finance reports were released today, and the news isn't terribly good for some of Orange County's challengers.

In the 47th Congressional District, Assemblyman Van Tran reported $347,914 cash on hand.  The incumbent, Congresswoman Loretta Sanchez, by comparison, reported $1,123,245 cash on hand.

That is really shocking as Tran has been planning to run for Congress for years.  He is already at a huge disadvantage, and the campaign is just getting started.

Click here to read the rest of this post.