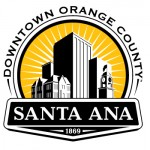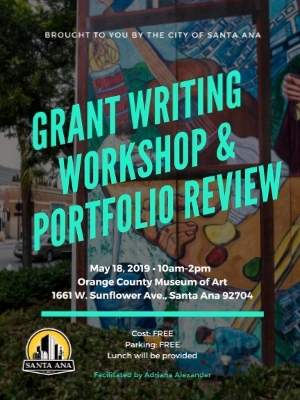 Need help filling out the City of Santa Ana's 2019 Investing in the Arts Grant application? Or would you like to pick up some pointers on how to write a great proposal?
Join us on SATURDAY, MAY 18 for this FREE workshop & portfolio review hosted by the City of Santa Ana's Arts & Culture Office at the Orange County Museum of Art's new location in Santa Ana (1661 W. Sunflower Ave., Santa Ana 92704). Come for the workshop from 10:00 am – 2:00 pm, and stay for the FREE art tour at 2:00 pm!
If you want your art portfolio, demo reel, etc. to be reviewed, please sign up separately.
*FREE admission + FREE art tour
*FREE parking
*LUNCH will be provided
Facilitated by Adriana Sanchez Alexander:
Adriana is a writer, educator, and cultural worker from Santa Ana with a background the design and implementation of community-based arts projects. She is the founder of the Workshop for Community Arts (2007), an arts collaborative that works across artistic disciplines to reimagine what it looks like to create art in partnership with a community. In 2016 Workshop for Community Arts was a recipient of grants from the California Arts Council and the National Association for Latino Arts and Culture.
Adriana has approximately 10 years of grant-writing experience that includes various types of grant applications for a number of organizations. She developed grant narratives for dozens of organizations as a Grants & Communications Consultant for The Olin Group (a nonprofit consulting firm in OC), as Development & Communications Coordinator for the Teaching Artist Support Collaborative of California, and as the Grants & Communications Manager for ACCIÓN Texas. Adriana previously directed the Writers in Communities program at Gemini Ink, a literary arts nonprofit located in San Antonio, Texas, where she oversaw the successful writing and implementation of an NEA Arts & Aging grant for intergenerational storytelling.
Finally, Adriana received her MFA in poetry from UC Irvine in 2009 and a Master of Public Policy from UC Irvine in 2015.
---
Adriana will be partnering with Makara Center for the Arts to offer three free funding workshops through the "Santa Ana Grants Equity" series!
For more information, please visit the Makara Center's website:
https://www.makaracenterarts.org/calendar1/2019/5/20/sage-grants-mentorship