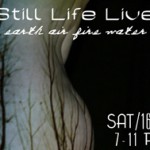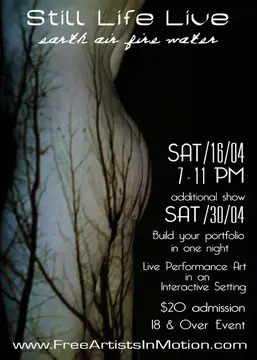 Time: Saturday, April 16 · 7:00pm – 11:30pm
Location: FAIM Art Gallery (Just under Memphis)
207 North Broadway #B-7
Santa Ana, California
Build your portfolio in one night with this live interactive exhibit featuring male and female models in a provocative setting inspired by the natural elements.
This events theme are the 4 elements EARTH-AIR-WATER-FIRE.
It is a great event for:
Photographers
Film Makers
Art Students
Sketch Artists
Painters
Jack of All Trades!
Live Models will be in many stations and setups for each artist to capture the models' elements!
Artists are invited to bring their own supplies. Not an artist but want to watch? Come on over and enjoy the scene with us.
$20, 18 and over only as some scenes contain artistic nudity. Entry fee is inclusive. All models are 18 and over. Releases are on file with FAIM.
Come and join us for another e-p-i-c STILL LIFE LIVE @ FAIM!
Click here to RSVP on Facebook.