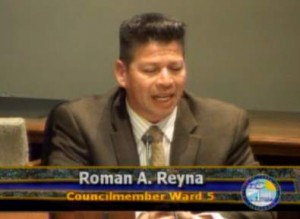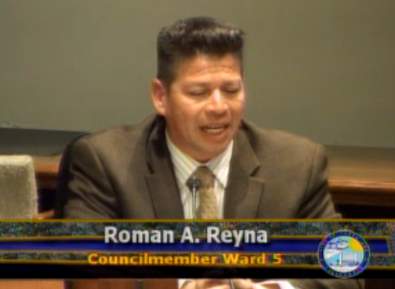 We have been looking this week at the publicly posted official calendars of our City Council Members, for the month of June, 2013.  So far we have determined that Council Members David Benavides and Angie Amezcua are barely present in their own Wards, while Council Member Michele Martinez is staying pretty active in her own Ward.  And we were disappointed by Mayor Pro Tem Sal Tinajero, who was only active on ten days in June.  Now we turn to the calendar of Council Member Roman Reyna, who represents Ward 5.

He met with a "Jack Tohn," of Wells Fargo, on June 3. Wells Fargo & Co. agreed to pay $85 million to settle civil charges that it falsified loan documents and pushed borrowers toward subprime mortgages with higher interest rates during the housing boom, in 2011, according to the Huffington Post.  I could find no reference to a "Jack Tohn" online except for a former American Idol contestant named "Jackie Tohn."
On June 6, Reyna was at the Alcohol & Entertainment Ordinance Meeting, where he and his pal David Benavides were busy trying to figure out how to open more bars in Santa Ana.
On June 10 he was at a SAUSD School Superintendent Search Meeting.  Huh?  Reyna was an SAUSD Trustee but he walked out of that job to run for the Council.  What gives?
On June 24, he met with Elson De Cantuaria, of the Cabrillo Tennis Courts, which are at Cabrillo Park, which is in Ward 1.
From June 26 to 30, Reyna was at the NALEO (National Association of Latino Elected Officials) Conference in Chicago.  The City of Santa Ana spent over ten thousand dollars flying several Council Members to that conference and paying for their swanky hotel rooms and their gourmet meals.
And on June 30, Reyna apparently made it back to to Santa Ana in time to go to the 4th of July event at Centennial Park, which is in Ward 6.
Wow.  Reyna was only active in June on 12 days – but even worse he did NOTHING in his own Ward.  Zip.  Nada.  He is as bad as Amezcua in that regard, if not worse.  MIA.  This should not come as a surprise to anyone as Reyna was pretty much MIA when he was on the SAUSD School Board too.