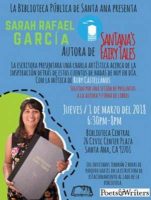 City of Santa Ana
Community: The Santa Ana Public Library will host Author Sarah R. Garcia to share her book, SanTana's Fairy Tales
In honor of International Women's Month, the Santa Ana Public Library is proud to present local author Sarah Rafael Garcia and her book SanTana's Fairy Tales on Thursday, March 1, 2018 from 6:00pm to 7:30 pm. Garcia will share an art-talk about her childhood hometown, Santa Ana, as an inspiration for these modern-day fairy tales.
There will be musical accompaniment by artist Ruby Castellanos. After the talk and readings from the book, there will be a Q&A with the author and a book signing. Sarah Rafael Garcia is a writer, editor, community educator and traveler. Since publishing her first book Las Niñas in 2008, she founded Barrio Writers and Libromobile.
SanTana's Fairy Tales is an oral history, storytelling project initiated by Garcia, which integrates community-based narratives to create contemporary fairytales and fables that represent the history and stories of Mexican/Mexican-American residents of Santa Ana. The book is comprised of a collection of the following bilingual stories:
The Carousel's Lullaby: SanTana's urban history intertwined with a traditional Mexican-folk lullaby and a haunting ghost carousel.
Zoraida & Marisol: The godmother of life or death, Zoraida grants transgente a vital wish at their last breath.
Just a House: Josie, a young girl caught between two worlds, the haunting past and displaced futures.
Hector & Graciela: Hunger, uncertainty, border crossings—a precarious family-life in our little city. (A homage to Grimm's Hansel & Gretel)
When the Mural Speaks: One man's perspective, a fable from the faces on the wall.
The Wishing Well: A central landmark becomes a magical promenade of forgotten wishes and parallel worlds.
The program is FREE and open to the public on Thursday, March 1, 2018 from 6:00 pm to 8:00 pm. Space is limited, please arrive early. There will be 2-hours free parking validation for the parking structure next to the library for program attendees.
THE SANTA ANA PUBLIC LIBRARY IS LOCATED AT 26 CIVIC CENTER PLAZA, SANTA ANA, CA 92701 (corner of Civic Center and Ross Street).
For more information, call (714) 647-5267 or keep up with the Santa Ana Parks, Recreation and Public Library on social media @SantaAnaPRCSA
+++++++++++++++++++++++++++++++++++++++++++++
En honor del mes Internacional de la Mujer, la Biblioteca Pública de Santa Ana se enorgullece en presentar a la escritora, Sarah Rafael Garcia, y su libro Cuentos de Hada de SanTana, el jueves, 1 de marzo de 2018 de 6 pm a 7:30 pm. García platicará como Santa Ana, su ciudad natal, inspiró sus cuentos de hadas modernos. Abrá acompañamiento musical por Ruby Castellanos. Después de su charla y lectura de algunos segmentos de su libro, habrá oportunidad para conversar con la autora y conseguir su autógrafo. Sarah Rafael Garcia es una escritora, editora, educadora en la comunidad y excursionista. Después de la publicación de su primer libro, Las Niñas en el 2008, Garcia organizó el programa Escritores de Barrio y el proyecto literario, Libromobile.
Cuentos de Hada de SanTana es un proyecto de relatos iniciado por García, el cual incorpora narrativas basadas en la comunidad para crear cuentos de hadas contemporáneos que representan la historia y las historias de los residentes mexicanos y mexicano americanos de Santa Ana El libro contiene una colección de los siguientes cuentos bilingües:
La Canción de Cuna del Carrusel: historia urbana de SanTana entrelazada con una canción mexicana tradicional y un carrusel fantasma embrujado.
Zoraida y Marisol: La madrina de la vida o muerte, Zoraida le concede a un transgén su codiciado deseo durante su último suspiro.
Sólo Una Casa: Josie, una joven atrapada entre dos mundos, el inquietante pasado y el futuro desplazado.
Héctor y Graciela: el hambre, la inseguridad, las travesías fronterizas – la vida precaria de las familias en nuestra ciudad. (En honor a los personajes, Hansel y Gretel, de los cuentos de los Hermanos Grimm)
Cuando el Mural Habla: Perspectiva de un hombre, una fábula de los perfiles en la pared.
La Fuente de los Deseos: Una rustica fuente se convierte en una excursión mágica de deseos olvidados y mundos paralelos.
El programa es GRATIS y abierto al público el jueves, 1 de marzo de 2018 de 6:00pm a 8:00pm.
Por favor llegue temprano, ya que el espacio es limitado. Se ofrecerá 2 horas de parqueo gratis para el público que asista al programa para aquellos que estacionen en la estructura de parqueo al lado de la biblioteca.
LA BIBLIOTECA PÚBLICA DE SANTA ANA ESTÁ SITUADA EN: 26 CIVIC CENTER PLAZA, SANTA ANA, CA 92701 (esquina de las calles Civic Center y Ross)
Para obtener más información, llame al (714) 647-5267 o manténgase al día de las actividades por medio de las redes sociales de Parques, Recreación y la Biblioteca Pública de Santa Ana @SantaAnaPRCSA