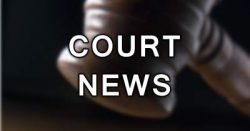 Armando Edgar Duran Cruz, a 38-year-old Santa Ana man, was sentenced Friday to only six years in prison for a DUI crash that killed another man and his 6-year-old nephew in Santa Ana, according to the O.C. Register.
Cruz pleaded guilty April 30 to two counts of gross vehicular manslaughter and driving drunk causing injury, according to the OCDA.
Cruz got a light sentence as part of a plea bargain with Orange County Superior Court Judge Robert Fitzgerald.
Cruz killed David Wayne Cote, 54, and his nephew, Ivan Sandoval, in the Aug. 3, 2015 crash.
The little boy had lost his mother to cancer previous to the fatal crash. Cote had become his legal guardian.
Initially police investigators thought Cote might be at fault for the collisison as he was driving under the influence of marijuana, morphine and two beers.
However investigators later determined that Cruza was speeding, although not at a very high rate of speed and he had a blood-alcohol level of .29 at the time of the crash.
This wasn't Cruz's first DUI – he was convicted in 2008 on the same charge.
At the time of the crash the little boy was sitting in the front seat of Cote's older-model BMW sedan although he should have been in a booster seat in the back seat of the vehicle, per state law.