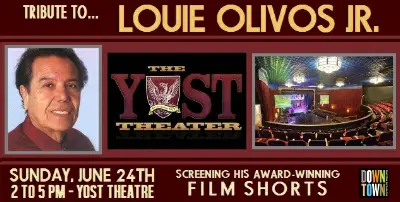 The Yost Theater is hosting a Tribute to Louie Olivos Jr., this Sunday, June 24, from 2 pm to 5 pm.  Olivos will be screening his award-winning film shorts:
EL DE LOS GUANTES: Winner – Ricardo Montalban Hollywood Film Festival – 2004. Wins best comedy short. A washed up – out of shape Mexican masked wrestler.
AFTERGLOW: New York Film Festival and Cannes Film Festival. A mafioso who is gay. 2006.
EL CORONEL: A Jack Nicholson type soldier. Wins best short written – Idyllwild Film Festival. 2011.
EL ABUELO: San Diego Film Festival. 2012. Wins best film short in San Diego. An autistic boy stumbles into migrant camp.
Tickets are $7.00 – available by calling (714) 801 – 9577.  The Yost Theater is located at 307 N. Spurgeon St., Santa Ana, CA 92701.  Click here for directions and parking info.