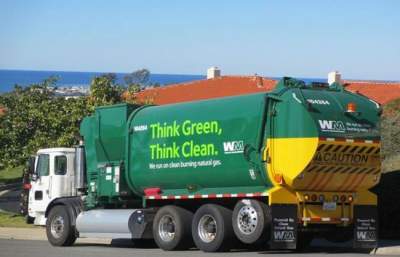 City council members on Tuesday, April 18, will consider a two-year extension on a trash collection contract with Waste Management of Orange County – it's Santa Ana's largest agreement and one that has only gone out to bid once in about 50 years, according to the O.C. Register.
Get this – the current contract, with USA Waste of California Inc., which does business as Waste Management of Orange County, expires on June 30, 2018, and the city staff report says we don't have time to do a proper RFP (request for proposal). If the city knew the contract was going to come up for renewal in June why in the world did they not get going on an RFP sooner?
Perhaps this mess is due to the fact that the city hired a company called Sloan Vazquez way back in December of 2015 to compare solid waste collection service and rates in 10 similar Orange County municipalities and come up with options – but Sloan Vazquez never finished their report! Oh I am sure they got paid though. What they did do was ultimately tell the city that they should extend the current waste contract. But get this – Sloan Vazquez did not factor fees and surcharges into their analysis!
Waste Management has given campaign contributions of $2,000 to Councilman Jose Solorio for the 2020 election, $2,000 to Councilman David Benavides for the 2014 election, $1,000 to Councilman Vincent Sarmiento for the 2016 election and $888 to Mayor Pro Tem Michele Martinez for the 2014 election, according to city records. However Martinez is the only Council Member who is opposing the extension of Waste Management's contract.
This whole deal stinks! And the waste management contract is the biggest one in our city at roughly $40 million-per-year.