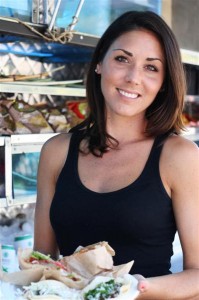 Could the vegan Seabirds Food Truck be coming soon to Santa Ana – with a brick and mortar location?  The O.C. Register's Fast Food Maven is reporting that Stephanie Morgan, owner of Costa Mesa's vegan food truck Seabirds, told her several weeks ago that she is scouting locations in Orange County to open a brick and mortar restaurant!
"No leases have been signed, but Morgan confirms she's been looking at spots in downtown Santa Ana and at the Anaheim food hall."
The Seabirds Food Truck hit the big time this past summer when it was part of Season 2 of "The Great Food Truck Race" on the Food Network.
According to the Fast Food Maven, Seabird's signature dish is beer battered avocado tacos. That sounds pretty decadent!
 Click here to check out their website.  Hopefully Morgan will choose Santa Ana over Anaheim…