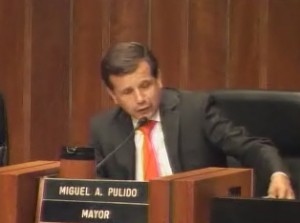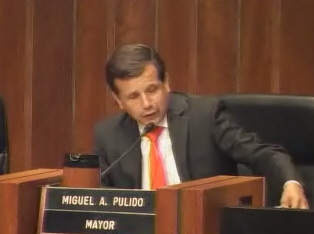 As I was driving to work today I heard the allegations against Santa Ana Mayor Miguel Pulido on talk radio.  Just like that the story has jumped from the Voice of OC to the L.A. Times to talk radio.
Is it any surprise then that now the local TV stations have picked up the story?  Click here to check out the CBS version of the scandal.
Will this story stick?  Will this damage Pulido in the long term?  Who knows?  November is many months away.  But if this does become a major chink in Pulido's armor, are his enemies on the Santa Ana City Council prepared to take him out?
For one thing they can forget about running Councilman Roman Reyna against Pulido.  That idea should be DOA.  Reyna is not in any way up to the task of being Mayor of the Orange County seat.
So can anyone else on the City Council be reasonably expected to beat Pulido?
Pulido already defeated Councilman David Benavides in 2012 and now Benavides is up for re-election.  He won't run for Mayor and risk it all when he can likely be easily re-elected.
What about the other Council Members?  I know that Councilman Vince Sarmiento would like to run but does he have enough fire in the belly?  He barely won re-election in 2012, against an unknown candidate who spent no money.  Sarmiento spent six figures!
The scariest candidate might well be Council newcomer Angie Amezcua, who won in Ward 3 in 2012 without spending a dime.  Her ballot designation of "teacher" allowed her to crush Planning Commissioner Eric Alderete, an attorney who did raise and spend a lot of money.
Could Amezcua beat Pulido?  The answer is a qualified "maybe."  She really has not done much on the Council but "teacher" is a powerful ballot designation.
Or the Council could look elsewhere for a candidate.  If Pulido can't make his current troubles go away the Council will need to act quickly rather than line up behind Reyna.