Orange County Vector Control and the City of Santa Ana distributed a press release yesterday about spraying of an insecticide to kill mosquitoes that is taking place only in the City of Santa Ana, starting on Sep. 8 through Sep. 11, 2014.  Why was this news sent out so late in the week, on a Friday?  And why isn't Anaheim getting sprayed when they have had 42 West Nile Virus cases while Santa Ana has had 31 such infections reported?  And Tustin and Garden Grove have had twice the West Nile Virus fatalities that Santa Ana has had – which is exactly one death.  Click here to see a map showing where the illnesses and deaths have occurred in Orange County.
Santa Ana does lead the County with regard to dead birds identified to have been infected with the West Nile Virus, with 65 such dead birds.  Anaheim has had 23 dead birds and there have been 20 in Huntington Beach, according to this map.
Why is the spraying of a poison in our city an issue?  Well check out what Vector Control says we should do when the spraying starts, at 3 am this Monday:
Stay indoors during the treatment and for 30 minutes afterwards
Close doors and windows and shut down non recirculating air conditioners during treatment and for 30 minutes after treatment
Cover outdoor fishponds, pet food, and water bowls prior to the application
The spraying will continue daily through Sep. 11 from 3 am to 5 am.
The product being sprayed is called Clarke Aquaanvil.  Click here to read more about it. The product's Safety Data Sheet admits that:
The product is toxic to aquatic organisms, including fish and aquatic invertebrates. Runoff from treated areas or deposition of spray droplets into a body of water may be hazardous to fish and aquatic invertebrates.
This product is highly toxic to bees exposed to direct treatment on blooming crops or weeds.
The product causes moderate eye irritation. Avoid contact with eyes or clothing.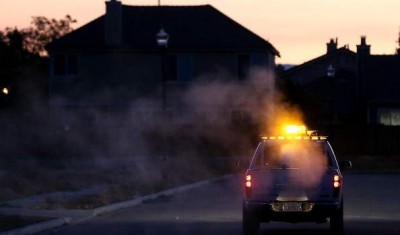 Opposition to spraying insecticides to stop the West Nile Virus rests on two very simple facts: 1) it does not work, and 2) it is dangerous to some people in the short term and adds to the overall pesticide load in the environment for the long term, according to an organization called Stop West Nile Virus Spraying Now. The second point is moot given that adulticiding is ineffective, but it is important because spraying continues as West Nile virus recedes into a state known as chronic endemicity, one in which very few people are infected. Moreover, indiscriminate spraying can increase resistance in non-target insects so that there might be no effective control available when an actual threat appears, and it harms beneficial insects, whose recovery cycle is often much longer.  The question is not whether to spray; rather, it is if we should use effective means of control instead of ineffective and damaging ones.
Why were the people of Santa Ana notified so late about this poison spraying?  And why is Santa Ana the only city being targeted by Vector Control?  Simple.  Our residents generally don't read newspapers and are not involved in government affairs.  And our politicians are asleep at the wheel.
If you are unhappy about the spraying of a toxic mist in our city, with such short notice and no attempt to explore any alternatives to this, here is who you should contact: