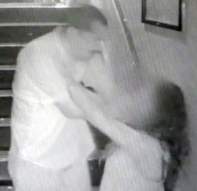 An unidentified man assaulted an apparently inebriated 26-year old woman at the stairwell of the Copper Door in Downtown Santa Ana, early on Sunday morning, May 21, 2017, according to the O.C. Register.
The SAPD released surveillance footage today of the attack, in an attempt to get leads on the suspect. Why they waited this long to release the footage is a very good question. Were they trying to protect the Proof Bar from what is sure to be a damaging hit to their image?
The victim reported the assault to the SAPD at about 3 a.m., shortly after the incident occurred. Yet the police waited until today to release the video  footage – and the SAPD did not release a press release via their Nixle service.
The victim walked out of the Proof Bar by herself before she was attacked. The suspect followed her and then attacked her on the stairwell, according to the SAPD.
The man is seen in the surveillance video footage grabbing and groping the woman and then he tries to drag her down the dark stairwell by her hair and clothes.
Somehow the victim was able to fight off the suspect and he took off.
While the victim was not seriously injured we hope she will lawyer up and go after the Proof Bar and the Copper Door for their shoddy security.
You might recall that a young Vietnamese-American woman was stomped to death a few years ago outside the now closed down Crosby Bar in DTSA. And a few years before that a Korean-American man from Irvine was shot to death at a city parking structure in DTSA. Just this month a man was convicted of manslaughter for stabbing a fellow to death at a punk concert in DTSA under the Sarmiento family's Festival Hall.
Security remains shoddy in DTSA. Party there at your own risk!