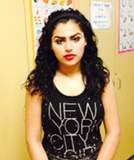 Santa Ana Police Department
Advisory: SAPD Missing Person Detectives Asking For Assistance in Locating Missing 16 Year Old Female
Missing Person: Kimberly Molina (16)
UPDATE: The missing 16 year old female has been located and subsequently released to the custody of LA County Social Workers as of the morning of May 24, 2017.
On 5/23/17, a social worker was transporting Molina to LA County. Molina jumped out of the car at 500 N. Main Street in Santa Ana and fled northbound.
Molina has priors for prostitution and has been a victim of human trafficking. She may be in the company of her pimp known only as "FEDERICO."
If located contact LA Co. Social Worker Mayra Gallo assigned to Commercially Sexually Exploited Children at cell (626) 460-9620 or Santa Ana Police Department Detective Gus Moroyoqui at desk (714) 245-8731.
Description: Female, Hispanic, 5'01", 110 lbs., blonde hair, brown eyes, last seen wearing brown sweater, unknown color leggings and blue hospital socks.
Tattoos: Star on each shoulder and "KIKO" on left chest.
(Photo taken about one year ago)
Location last seen: 500 N. Main Street, Santa Ana