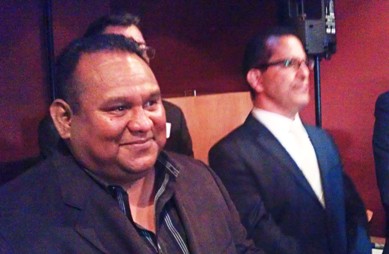 It looks like we are going to be stuck with Tom Daly as our Assemblyman in the 69th Assembly District, with the news we broke today that his opponent, Jose Moreno, has withdrawn from the contest after being threatened with the loss of his job, via the federal Hatch Act.
But Daly is going to be toast in two years – and there will be no shortage of viable candidates available to take him out.
So who will defeat Daly in two years?  Here are the top contenders:
Santa Ana Council Member Sal Tinajero – He bowed out of this year's race for Santa Ana Mayor, so now quite a few folks owe him one.  Tinajero is definitely the favorite to take out Daly in 2014.
Could Daly lose to a Republican?  Maybe, under the right circumstances.  The only one I could see running for this seat is former Anaheim Unified School District Trustee Thomas Hoagy Holguin.  If enough Democrats run in the Open Primary, Holguin will at least make the top two in November, 2014.
Wait – one more Republican comes to mind.  If Karina Onofre can beat Roman Reyna in November, she could challenge Daly as an elected member of the Santa Ana City Council.
How about the other Jose Moreno – the Democrat on the Anaheim City School Board?  He is smart and popular and would be a formidable contender for the 69th A.D.
So who is out of the running?  Santa Ana Council Member Michele Martinez for sure.  She had her shot in June – raised a lot of money and just about came in last.  She will at this point be lucky to hang on to her Council seat in 2014.
Julio Perez is done too.  I am told he regrets running this year and won't do it again. Good!
Nor do I see Santa Ana Council Member Vince Sarmiento running.  He apparently wants to run for Mayor of Santa Ana in two years.  Good luck with that.
One guy who won't be running for the 69th A.D. in two years is Santa Ana Council Member David Benavides.  He will be defending his seat – but he will surely lose as Mayor Miguel Pulido will definitely be working to remove this backstabber from the City Council.