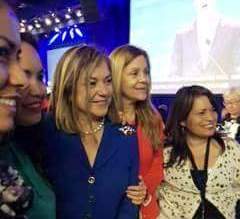 Congresswoman Loretta Sanchez, Representing California's 46th Congressional District
STATEMENT, FOR IMMEDIATE RELEASE: August 26, 2015
MEDIA CONTACT: Emily Morris, 202-225-2965, Emily.Morris@mail.house.gov
REP. LORETTA SANCHEZ STATEMENT ON WOMEN'S EQUALITY DAY
WASHINGTON, D.C. – Today, Congresswoman Loretta Sanchez (CA-46), released a statement commemorating Women's Equality Day, on the 95th anniversary of the 19th Amendment which guaranteed America's women the right to vote.
"On the 95th anniversary of the 19th amendment we reflect on the women whose dedication and vision shaped our history for the better but recommit ourselves to ending the inequality women still face in the workplace and the military and attacks on women's health.
"In America, women still only make 78 cents on the dollar and Latinas earn just 56 cents on the dollar. Just last month Senate Republicans threatened women's health and safety through a misguided attempt to defund Planned Parenthood.
"I have been part of the long fight to address sexual assault in the military and by no means have we reached the end of the road. The numbers on this epidemic are still staggering and require meaningful, decisive action to prevent assaults and protect victims in our armed services.
"Women are still excluded from combat roles, hurting the opportunity for more female leadership in the military. Our servicewomen should be seen and treated as equal while they risk their lives to protect our nation.
"Recent historic milestones, like the first women ever graduating from the Army's elite Ranger school, are inspiring and proof that women who are able and willing to serve should be given the support and opportunities to do so.
"I will continue to fight for polices that will give women the opportunities they deserve and the protections they need to succeed. I will keep fighting for the right of women to make their own decisions about their health."
Congresswoman Sanchez is the founder and chair of the Women in the Military Caucus. In 2014 she introduced the She is Ready Act to remove artificial barriers for women to enter combat positions, increase transparency during implementation and ensure women are given the gear they need to be successful and safe. The 2015 NDAA included provisions of the bill. In 2013 Sanchez introduced the Track it to Prevent it Act, which holds commanders accountable for their unit's climate and strengthens their ability to prevent and respond to sexual assaults. Provisions of the bill were included in the 2014 NDAA. She is also a co-sponsor of the Paycheck Fairness Act, requiring employers to submit pay data by race, sex, and national origin to the Equal Employment Opportunity Commission.
###
Congresswoman Loretta Sanchez is proud to represent California's 46th Congressional District, which includes the cities of Anaheim, Santa Ana, and parts of the cities of Garden Grove and Orange in Orange County. She serves as Ranking Member of the House Armed Services Subcommittee on Tactical Air and Land Forces and as the second ranked Democrat on the Committee on Homeland Security.