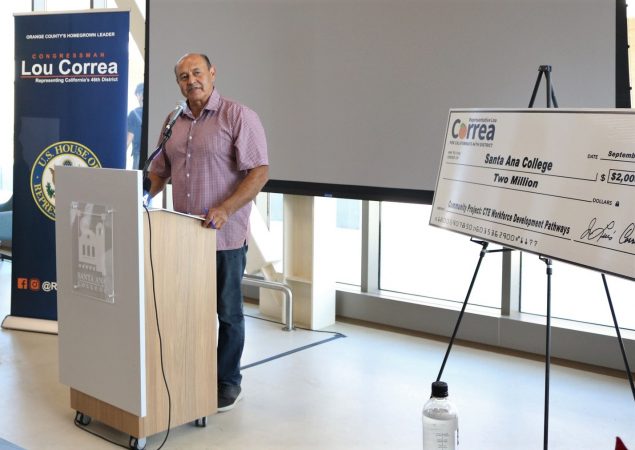 SANTA ANA, CA – Yesterday, Representative Lou Correa (CA-46) joined Santa Ana College President Dr. Annebelle Nery, Ph.D. to announce $2 million in federal funding for pathways to employment for disadvantaged, dislocated or at-risk adult learners across Orange County.
This project will develop complete career education (CTE) pathways for disadvantaged, dislocated or at-risk adult learners that start in non-credit courses (for CTE skill development and prep for credit programs, basic skills, English) and transition to credit certificate and degree programs. The project will also create pathways for in-demand occupations and careers in the region to diversify the workforce and broaden engagement and access by marginalized populations—as well as enable dislocated workers, un- and under-employed and working poor to enter occupations that earn family-sustaining wages.
"These students are the working class of America, and are a large part of the economic fabric of our community," Correa said. "One of the largest challenges we've faced is connecting these adults who are crucial players in Orange County's workforce with the jobs they need. That's why I was so proud to bring back their federal tax dollars today, to invest not just in their education through community college, but in their job security so that they can continue to contribute to our local economy, too."
"Thanks to Rep. Lou Correa's dedication to advocating for the urgent needs of the community at the federal level, we are proud to be able to create more equitable opportunities for our students to pursue their educational and professional goals," said Dr. Annebelle Nery, President of Santa Ana College. "This funding enables SAC to move toward equitable pandemic recovery, to diversify the workforce, and to broaden engagement and access by marginalized populations. Increasing employment for disadvantaged populations in high-wage occupations is critical for equity and economic development."
This funding is part of the nearly $30 million that Rep. Correa secured for community projects throughout California's 46th congressional district in the Fiscal Year 2023 (FY23) omnibus appropriations bill, which President Biden signed into law last year. Rep. Correa worked in lockstep with community leaders to identify priorities for CA-46 constituents, and fought for them during the annual funding process.
About Lou Correa
Congressman Lou Correa is a longtime Orange County resident, with deep local roots. To this day, he lives only three miles from his childhood neighborhood in Anaheim. He is the son of working-class parents whose hard work gave him a chance at success, and has spent his career fighting to protect the American Dream, and ensure anyone can reach the middle class, just as he did. In 2016, Lou was elected to the U.S. House of Representatives to continue his work by representing the community he has spent the past 20 years serving, fighting to give everyone access to the same opportunity he had. Congressman Correa is committed to working across party lines to strengthen the middle class and give everyone a shot at the American Dream by investing in education, healthcare, and our fading infrastructure, and has introduced legislation to protect the legal rights of immigrants, care for veterans, and fight against the wasteful spending of taxpayer money.