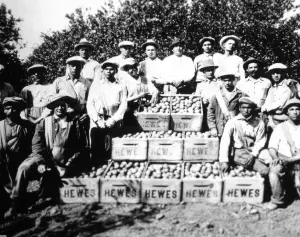 The Santa Ana City Council will meet today, May 3. Closed session begins at 4 p.m. and open session is at 5:45 p.m. You can participate in person, online, or via phone. Watch the meeting on YouTube, Zoom, or on TV. See the meeting agenda and learn how to watch and participate at https://www.santa-ana.org/cc/city-meetings.
The meeting agenda includes:
Discuss and Consider Directing the City Manager to Direct Staff to Prepare a Resolution Apologizing to Chinese Immigrants and their Descendants – Councilmember Phan
Certificate of Recognition presented by Mayor Pro Tem Bacerra to Behr Paint Company in Recognition of their 75-Year Anniversary.
Proclamation presented by Councilmember Penaloza to Eva Barrios declaring April 24-30, 2022 as National Crime Victims' Rights Week.
Staff Presentation on the OC Streetcar Project – Orange County Transportation Authority
Resolution Calling Upon Our State Legislators to Introduce and Pass a Bill that Would End Child Marriage
Request for Direction Related to Outdoor Dining
Appoint Two to Three Members of the City Council to the Joint School Collaboration City Council Standing Subcommittee with the Santa Ana Unified School District
Public Hearing – Approve the Fiscal Year 2022-2023 Annual Action Plan and budgets for the Community Development Block Grant, HOME Investment Partnerships Grant, and Emergency Solutions Grant, and authorize submission to the United States Department of Housing and Urban Development
Public Hearing – Ordinance Amendment No. 2022-01 to Update Chapters 18, 21, And 40 of the Santa Ana Municipal Code Addressing Medicinal Cannabis Retail, Consumption Lounges and Temporary Events, Measure BB Waitlist Termination, Retail Facility Relocation, Commercial Cannabis Eligible Areas, Commercial Cannabis Tax Rate Reductions for Commercial Cannabis Cultivation, Distribution, and Manufacturing, and Adopt Language Addressing Proposed Tax Treatment of Microbusinesses and Shared Manufacturing, and Make Other Administrative Amendments of a Complimentary Nature
Reunión del Concejo Municipal Hoy
El Concejo Municipal de Santa Ana se reunirá hoy, 3 de mayo. La sesión cerrada comienza a las 4 p.m. y la sesión abierta a las 5:45 p.m. Se puede participar en persona, en línea o por teléfono. Vea la reunión en YouTube, Zoom o en la televisión. Vea la agenda de la reunión y aprenda a ver y participar en https://www.santa-ana.org/cc/city-meetings.
Họp Hội đồng Thành phố vào Hôm Nay
Hội Đồng Thành Phố Santa Ana sẽ họp vào hôm nay, Ngày 3 Tháng Năm. Phiên họp kín bắt đầu lúc 4 giờ chiều và buổi họp công khai bắt đầu lúc 5:45 giờ chiều. Công chúng có thể đích thân tham gia, qua trực tuyến, hoặc qua điện thoại. Hãy xem buổi họp trên YouTube, Zoom, hoặc trên TV.
Quý vị có thể xem lịch trình buổi họp và tìm hiểu cách để xem hoặc tham gia: https://www.santa-ana.org/cc/city-meetings.