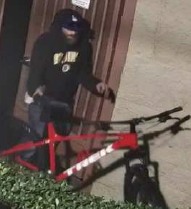 On Wednesday, October 12, 2022 at 0121 hrs., a suspect unlawfully entered the Lighthouse Self Storage facility at 14400 Beach Blvd. and stole several items from a unit.
Will you still vote for Sarmiento even though his family is suing the City of Santa Ana?
The suspect then fled the scene on a red TREK mountain bike.
Suspect 1: Male, White, approx. 30-40 years old., with a mustache and beard wearing an "LA" baseball cap, black hoodie with "Bruins" on the front, white t-shirt, blue jeans, and black tennis shoes.
If you have any information regarding this incident, please contact Investigator T. Schumacher at (714) 898-3315 x 4570 or TSchumacher@westminster-ca.gov.