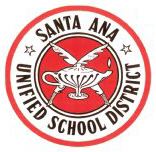 FOR IMMEDIATE RELEASE
Contact: Deidra Powell, Chief Communications Officer, (714) 558-5555, Deidra.Powell@sausd.us
Santa Ana Unified School District Provides Free LUNCHES THROUGH Summer FEEDING Program
SANTA ANA, CA — June 18, 2014 – The Santa Ana Unified School District (SAUSD) will be participating in a free summer lunch program at 42 schools and 8 park sites within the district boundary between June 23rd to August 22nd.
The federally-funded program operates Monday through Thursday at most schools, with a select number of locations operating Monday through Friday. The program is open to all children ages 1 to 18, no income requirements or registration is necessary, and all participants must eat their lunch at the site.
"Just as learning does not end when school lets out, neither does a child's need for good nutrition." "With over 90% of our population qualifying for free or reduced-priced meals, we want to make sure that our students continue to receive nutritious meals even when the traditional school year is not in session," says Stefanie P. Phillips, Ed.D, CBO/Deputy Superintendent of Business Services.
For a list of all participating sites, dates, times and additional rules, please see the attached flyer. For more information, call SAUSD's Food Services Department at 714-431-1900, or visit www.sausd.us.
###