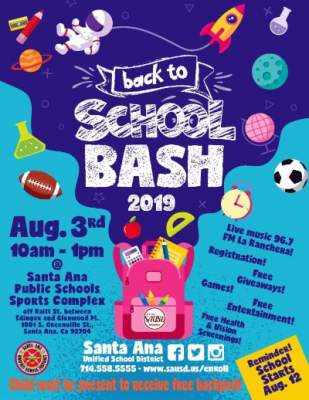 On Saturday, Aug. 3, 2019 thousands of eager Santa Ana Unified School District (SAUSD) students and their families will converge upon the Santa Ana Public Schools Sports Complex, at 1801 S. Greenville St. in Santa Ana, to take part in the annual Back to School Bash.
During the popular event, the District is anticipating providing nearly 3,000 backpacks filled with supplies to students, along with other free giveaways. In addition, families will have the opportunity to receive information from representatives of nearly 40 local agencies at resource booths set up on site.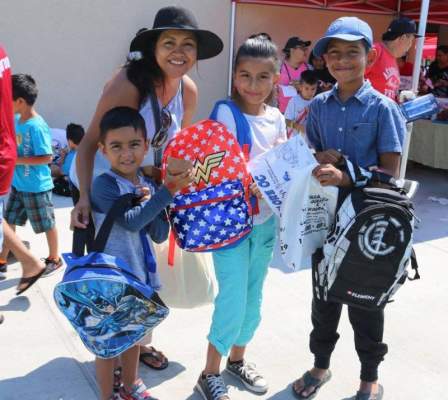 The fun-filled and educational gathering will be held from 10 a.m. to 1 p.m. It's designed as a one-stop event to ensure that each student has the necessary tools to get the school year off to a good start, which is essential to their academic success.
Admission to the Back to School Bash is free. Here are just a few of the support services and free offerings that will be available to parents and students (while supplies last):
• Free backpacks and school supplies
• Free health screenings
• Free registration support
• Free food samples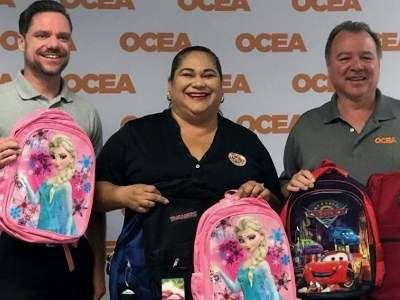 NEW SCHOOL YEAR BEGINS AUG. 12
Instruction in SAUSD resumes Monday, Aug. 12, 2019. The 2019-20 school year will bring with it new programs and facilities across the District, with the goal of providing additional educational options and opportunities for students. These enhancements include the addition of Full Day Kindergarten at all school sites, the opening of Romero-Cruz (PreK-8) Academy, the addition of a Dual Language program at Monroe Elementary School, the expansion of the Engage 360° Extended Learning Program, and much more.