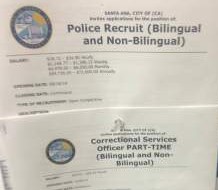 The City of Santa Ana is currently hiring Correctional Services Officers on a Part-Time basis (Bilingual and Non-Bilingual).  Click here to apply.  This job pays $20.01 – $24.32 Hourly.
This a part-time position. The incumbent(s) will work up to 20 hours per week. Work schedule is to be determined and open for discussion. This recruitment is open until further notice. Therefore, it can close at any given time and without notice. You are encouraged to apply immediately!
Bilingual fluency is not required at this time. Applicants interested in receiving bilingual pay, which is an additional $0.73/hour, must be fluent in both English and any one of the following languages: Spanish, Vietnamese, Samoan, Hmong, Korean, or Cambodian.
DEFINITION
Under general supervision of full-time staff, performs duties related to booking, monitoring and maintaining order among inmates in a direct supervision jail facility.
This part-time classification is distinguished by the need to exercise independent judgment and initiative in the performance of duties within specific areas of responsibility in a Type II jail facility that uses a "direct supervision" operational style. Incumbents will work independently under the indirect supervision of designated full-time jail or police department personnel.
The City of Santa Ana also has several other full time openings in their Police Department.  Click here to see a list of the open jobs.