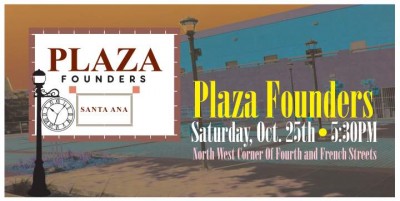 Members of the Tongva and Juaneño/Luiseño nations long inhabited the area we now know as Santa Ana. In 1810, year of the commencement of the war of Mexican Independence (1810–1821), Jose Antonio Yorba, a sergeant of the Spanish army, was granted land that he called Rancho Santiago de Santa Ana. Yorba's rancho included the lands where the cities of Olive, Orange, Irvine, Yorba Linda, Villa Park, Santa Ana, Tustin, Costa Mesa and unincorporated El Modena, and Santa Ana Heights, are today. This rancho was the only land grant in Orange County granted under Spanish Rule.
After the Mexican-American war ended in 1848, Alta California became part of the United States and American settlers arrived in this area. Claimed in 1869 by Kentuckian William H. Spurgeon on land obtained from the descendents of Jose Antonio Yorba, Santa Ana was incorporated as a city in 1886 with a population of 2000 and in 1889 became the seat of the newly formed Orange County. (Source – Wikipedia)
Now for some reason the founding of Santa Ana is being celebrated with an event called "Plaza Founders" on Saturday, October 25, 2014, from 4:00 pm to 7:30 pm, at the northwest corner of French St. and Fourth St.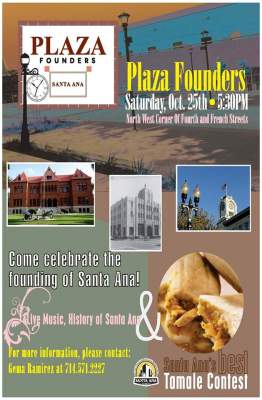 The event will include:
Best Tamale in Town Contest
Information and Vendor Booths
Performances celebrating harvest time
Community gardens
Farmers Market
So what became of Spurgeon?  He is remembered today because a street is named after him.  A few of the many able men who helped Spurgeon realize his dream are also remembered by street names. Eli F. Greenleaf was the first practicing doctor. James L. Garnsey was owner of the first brickyard. Jacob Ross, Jr., was his first and constant supporter. Theo Lacy was the second sheriff. Fruit, Halladay, McFadden, and English were other Santa Ana pioneers. (Source: Santa Ana Historical Society)
No one much remembers the natives whose land was stolen by the Spanish and eventually sold to Spurgeon.