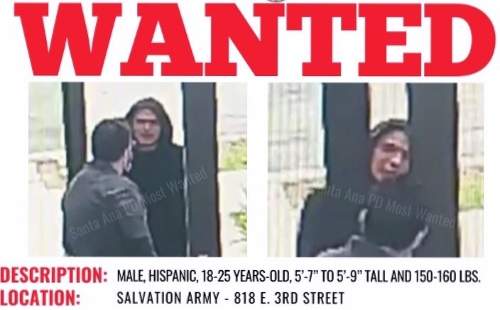 On 4/18/20, at approximately 11:15 AM, the pictured suspect attempted to gain entry into the Salvation Army Hospitality House building located at 818 E. 3rd St., in Santa Ana.
The victim did not allow the suspect inside and began to close the door. The suspect grabbed the door and attempted to force it open. The victim continued to pull the door shut, at which time the suspect punched the victim in the face. At the same time, the suspect pulled the prescription eyeglasses from the victim's face. The suspect fled on foot, eastbound on 3rd Street, with the victim's glasses.
The Hospitality House opened its doors in the city of Santa Ana in 1964 and has been a beacon of hope and transformation to thousands of individuals. according to the Salvation Army. The 75-bed residential emergency shelter is a place where spiritual and physical comfort is given 24 hours a day, seven days a week and 365 days a year.
Anyone with information identifying the wanted suspect in this case contact Detective Greaver at (714) 245-8362 or DGreaver@santa-ana.org.