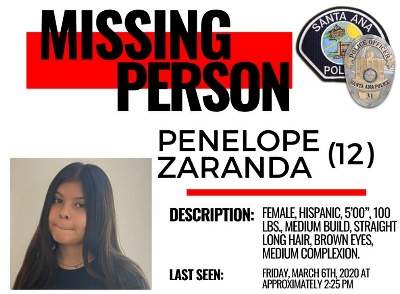 Missing Person Penelope Zaranda was last seen on 03/06/2020 at approximately 2:25 PM, exiting Ross Department Store at 3900 S. Bristol Street, Santa Ana. She was seen via security cameras going southbound through the parking lot towards South Coast Plaza in Costa Mesa.
Zaranda was in the care of her foster mother when she was last seen. She may have gone to North Hollywood where her grandmother and mother live.
Missing Person: Penelope K. Zaranda (12)
Description: Female, Hispanic, 5'00", 100 lbs., medium build, straight long hair, brown eyes, medium complexion.
Last Seen Wearing: Black T-Shirt "Thug Life" Tupac on the front, camo sweatpants with white and red stripe on the side and white basketball shoes.
Anyone with information on the whereabouts of Zaranda please contact Detective Moroyoqui at (714) 245-8731 or Investigator Jurado at (714) 245-8353.