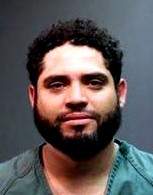 A suspect has been arrested and charged with vandalizing the Johnson Chapel AME Church located in the 1300 block of West 3rd Street.
Detectives working this case used evidence left at the crime scene by the suspect to identify him as Joel Fabian Sandoval.
His current charges are PC 594(b)(1) Felony Vandalism, PC 594.3(a) Vandalism to a Place of Worship.
The damages are estimated in excess of $2000. During his interview with Detectives, the suspect confessed to the entire crime.
Statements made by the suspect indicated this was not a hate crime, nor was he a member of the congregation.
Detectives, once obtaining the identity of the suspect, found that SAPD Officers had arrested Sandoval on the same day of this incident on an unrelated vandalism charge at a residence in the 1500 block of West McFadden Avenue. During that incident, he randomly damaged a garage door.
Suspect Description: Male, Hispanic, 30's, 5'6", heavy set, possibly a full beard
Location: Johnson Chapel AME Church – 1300 block of West 3rd Street
On Tuesday, 07/02/2019, at approximately 8:39 am, a male Hispanic suspect, for unknown reasons using a large metal pipe, destroyed the front doors and made entry into the Johnson Chapel AME Church located in the 1300 block of West 3rd Street. After making entry, the suspect continued to damage a set of secondary doors within the church and attempted to cause additional damage to the door frame. Prior to making entry into the church, the suspect attempted to break into a utility shed located to the rear of the church and also damaged an exterior door on the side of the church.
Anyone who may have witnessed this crime or has information on the identity of the suspect is asked to contact Detective S. Lim at (714) 245-8417 or SLim@santa-ana.org
Address/Location