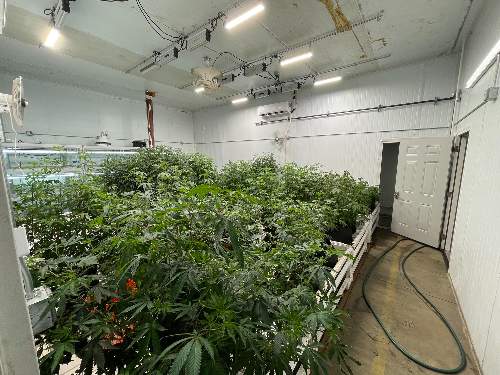 After receiving a community complaint regarding a possible illegal marijuana cultivation site, Santa Ana Police Vice detectives began surveillance in the area to identify the illicit business. Through investigative leads, Vice detectives were able to narrow down the location of the industrial complex located in the area of the 2100 block of S. Yale Street. Santa Ana Police detectives authored a search warrant and served the warrant the morning of Wednesday, August 11, 2021.
Initial investigation revealed several individuals were working inside this illegal business and those individuals were detained. Once inside the building, detectives located an illegal, large-scale, operational marijuana cultivation site. In total, six individuals were detained for illegal cultivation.
While in the process of investigating this illegal business, further evidence led detectives to an adjacent building in this complex. Vice detectives utilized a narcotics detection K9, which immediately alerted on a large roll up door. This additional information allowed for detectives to author and obtain a secondary search warrant.
Upon entering the secondary illegal business, detectives located a marijuana packaging facility with large amounts of marijuana. While inside, detectives detained 90 individuals and three juveniles, who appeared to be working at the facility. Upon further investigation, it appeared the detained individuals might have been victims of human/labor trafficking. Detectives are currently working with the Orange County Human Trafficking Task Force (OCHTTF) and the Orange County District Attorney's Office to determine if these individuals are involved in the illegal marijuana business and/or victims of human/labor trafficking.
Representatives from the County of Orange Social Services Agency and Waymakers responded to provide services.
Chief of Police David Valentin stated, "Providing effective policing services and addressing quality of life issues is our highest priority. This multi-pronged enforcement operation illustrates our unwavering commitment to a balanced traditional and community based policing strategy. We not only removed a nuisance business from our community, we also saved individuals who were victims of human/labor trafficking. This would not have been possible without the assistance and collaborative efforts of our allied law enforcement agencies which include the Orange County Human Trafficking Task Force and U.S. Department of Labor, in addition to our partnerships with the County of Orange Social Services Agency and Waymakers."
Anyone with information on this case is asked to call SAPD Vice Detectives at (714) 245-8384 or Orange County Crime Stoppers at 1-855-TIP-OCCS.