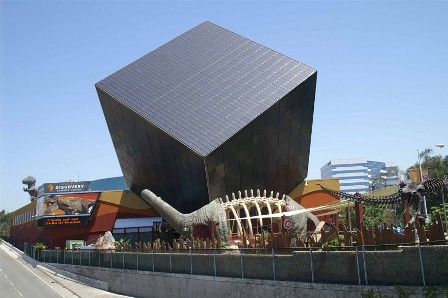 For Immediate Release: April 13, 2011
For More Information Contact: Carol Chamberlain – Office: (916) 319-2069, cell: (916) 804-5355
Assemblyman Solorio Announces Santa Ana Discovery Science Center is Awarded $7 million from Prop. 84 Park Bond
Early support of application and outreach to key leaders may have influenced decision
Sacramento – State Assemblyman Jose Solorio (D-Anaheim) offers congratulations to Santa Ana-based Discovery Science Center for their success in receiving a significant Proposition 84 Nature Education Facilities Program award. The center requested and will receive $7 million to expand its existing facility and build a California Natural Resources Pavilion.
The Discovery Science Center is a nonprofit organization currently serving 420,000 students, teachers and general visitors each year, plus an additional 200,000 chidren in their classrooms.
"I strongly supported their application, and contacted key state leaders to garner their support," says Solorio. "I told anyone who would listen that there could not be a more worthy candidate for Prop 84 funds. The Discovery Science Center already has an excellent track record of increasing public understanding and appreciation for science, math and technology through interactive exhibits and programs. This new pavilion will only enhance what they do so well right now for Orange County youth."
The Discovery Science Center's new California Natural Resources Pavilion will add 21,000 square feet to their existing center and educate visitors about our air, water, and land resources. The expansion will feature the latest sustainable features incorporated into the construction and design of the new building, and will highlight the importance of these resources to Southern California. The exhibits will feature goal-oriented approaches in which visitors learn scientific concepts through engaging in a series of tasks to achieve a mission. Targeted groups will include students, the economically disadvantaged, racial/ethnic minorities, teachers, and visitors of all ages.
"I especially want to thank President Joe Adams of the Discover Science Center for preparing a great proposal with a strong vision," Solorio added. "The kids from Santa Ana and throughout Southern California will reap the educational benefits of this innovative project for decades to come."
For a full list of awards, visit the California Department of Parks and Recreation website.
State Assemblyman Jose Solorio is the Chair of the Assembly Insurance Committee and also serves on the Assembly Appropriations and Transportation committees. He represents the Sixty-Ninth Assembly District, which includes the cities of Anaheim, Garden Grove, and Santa Ana. For more information about Assemblyman Solorio, visit www.assembly.ca.gov/solorio.
###