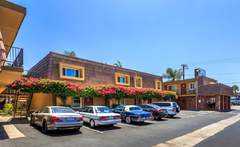 City of Santa Ana, Downtown Orange County
Community Alert: Santa Ana City Council Approves Funding to Address Chronic Homelessness
At last night's meeting, the Santa Ana City Council unanimously approved approximately $1.2 million in HOME Investment Partnership Program funds for the Guest House project. This is the first permanent supportive housing project for chronically homeless individuals in Santa Ana and one of the largest projects to provide housing for homeless individuals in Orange County.
The Guest House is located at 2151 E. First Street and is being developed by Community Development Partners through the rehabilitation of an existing hotel. The Guest House will provide 57 studio units and 14 one-bedroom units serving homeless residents. The design will feature four two-story buildings, a community garden, commercial kitchen, outdoor courtyard and laundry facilities.
"The goal of the Guest House is to reduce chronic homelessness in Santa Ana. Thanks to the leadership of our Mayor and City Council, we are able to provide the financial resources needed to make this project a reality and further our efforts to address homelessness in our community," stated City Manager David Cavazos who also serves on the OC Commission to End Homelessness.
Mercy House will be the lead service provider for the project offering wrap-around supportive services tailored to the needs of the residents. The supportive services program will be based on Housing First principles coupled with on-going education and case management that focus on the needs of chronically homeless individuals. [Housing First is a homeless assistance approach that prioritizes providing people experiencing homelessness with permanent housing as quickly as possible – and then providing voluntary supportive services as needed.]
The project promotes the City's goal of providing long-term affordable housing and meeting the affordable housing goals as identified in the City's Strategic Plan, Housing Element and Consolidated Five-Year Plan.